Bundle: All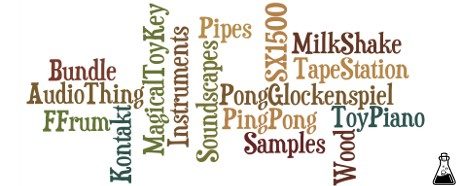 | | | |
| --- | --- | --- |
| | |   |
This bundle includes all AudioThing's Kontakt products so far at a nice discount. On every new release this page will be updated.
For detailed info on a specific product, please click on the product thumbnail below.
If you bought a previous bundle and want to "upgrade" it with the new releases, please contact us for a personal 22% discount code.
Specifications
16 Products for Kontakt 3.5 and 4.2.2
Total size: 1.7 GB
22+% Discount
Kontakt 4.2 full version required:
Bells
Xmas Beer Bottles
Temple of Mercury
TX-101
TapeStation
MilkShake
SX1500
Kontakt 3.5 full version required:
Strings
Pipes
Soundscapes Vol.1
Pong Glockenspiel
Wood
Magical Toy Keyboard
Toy Piano
Ping Pong
FFrum

"Bi Polish Polka" by Beau-Jarred Schekeryk
"Soaked by the Sea" by Vom Vorton
"All Audiothing" by Isaac Barter