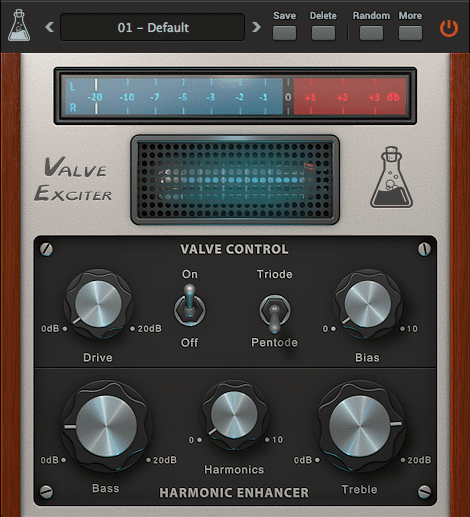 Harmonic Enhancer + valve emulation
Valve Exciter is a Harmonic Enhancer plugin with vintage valve emulation. The exciter section features hand tuned filters with the ability to sweep the center frequencies via the Harmonics knob. The valve section is modelled after a softer custom version of the vintage Telefunken ECC83 tubes with drive, triode/pentode mode and bias settings.

"Valve Exciter is an intriguing plugin capable of some great sounds. Sounding quite lovely when handled correctly, Valve Exciter is characterful, effective and very affordable. "
Computer Music Magazine. The world's best selling magazine dedicated to making great music with your Mac or PC.
SPECIFICATIONS
Harmonics Enhancer: Bass and Treble (with Harmonics sweep)
Valve Emulation with drive
Lightweight on CPU
Preset system with randomizer
SYSTEM REQUIREMENTS
Windows XP SP2, 7, 8, 10 (32/64 bit)
Intel Core 2 Duo or AMD Athlon 64 X2, 4 GB RAM
VST2 or AAX, 32-bit or 64-bit host
OS X 10.7 – macOS 10.13
Intel Core 2 Duo, 2 GB RAM
VST2, AU, or AAX, 32-bit or 64-bit host
2017/09/05: v1.5.2
– Fixed: Random bug causing one of the channels to mute
2016/10/05: v1.5.1
– Valve parameters recall problem fixed.
– Added Mono->Stereo channel configuration.
– Default preset ("01 – Default") can now be overwritten by the user.
2015/11/21: v1.5.0
– New preset system
– Better parameter smoothing
– Improved CPU usage and stability
– Values are shown when dragging the knobs
– Added Randomizer Lock system
2014/11/06: v1.3.0
– Added support for AAX
2014/10/05: v1.1.1
– Fixed GUI bug with Output control
2014/10/01: v1.1.0
– Added Input/Output GUI controls
2014/08/16: v1.0.2
– Dropped support for VST3
– Fixed host settings recall for VST
– Fixed Live/Studio One internal bypass bug
– Improved CPU usage and reduced size
– Added Input/Output controls (not in GUI)