Vintage Mics
is a free impulse response library for
Fog Convolver
.
It features 40 impulse responses of vintage microphones from 20 manufactures. Mostly ribbon microphones from the 30s to the 70s.
Courtesy of the
Microphone Impulse Response Project
.
Specifications
40 Impulse Responses
20 Mic Manufactures
48kHz-44.1kHz / 24Bit
Size: 7 MB
Formats: Fog Convolver and WAV
Installation
Open the file VintageMics.zip, and copy the content anywhere you want.
In Fog Convolver, click on the + button below the Bank list.
Then click on Add existing Bank.
Browse to the folder where you copied the bank and click open.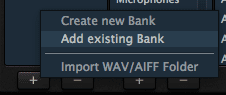 List of Impulse Responses
Altec 670A
Altec 670B
American R331
Amperite RA
BBC Marconi Type B
B&O BM2
B&O BM6
Beomic1000
Beyer M260
Beyer M360
DoReMi 351
EMI ribbon
EV RE20 Flat
EV RE20 HPF
FilmIndustries M8
GEC BCS2373
GEC big dynamic
Grampian GR2
Melodium 42B
Melodium Model12
Oktava ML19
RCA 44BX 1
RCA 44BX 2
RCA 74B
RCA 77DX 1
RCA 77DX 2
RCA PB90
RCA Varacoustic
Reslo RB RedLabel
Reslo RB250
Reslo RV
Reslo SR1
Reslo VMC2
Shure 315 HPF
Shure 315 flat
Sony C37 fet
Telefunken M201
Toshiba TypeH BK5
Toshiba TypeK HPF
Toshiba TypeK flat