Kontakt 4.2.4
WAV 44.1kHz / 24 Bit
150 MB
---
Environments is a series of sample libraries inspired by our research in sound environments and the relationship of sound and space.
Environments "Temple of Mercury" features sound gestures from a corrugated plastic pipe and the impulse response of the Temple of Mercury, situated in a wide caldera near the west of Naples (Italy). The Temple is also known as "The Echo Temple" for its several acoustic reflections caused by a dome vault and water on the floor. The temple is entirely made of tophus, and it has a diameter of 21.5 meters (71ft) and a circular opening in the vault reminiscent of the one in the Pantheon in Rome. The sampled instrument produces flute, horn, efxs, impulsive sounds, and, with a little electroacoustic modification, feedback sounds; all sounds are playable with or without the convolution of the Temple. This library was inspired by a video by Salvatore Carannante, a musician who plays common or recycled everyday objects as a way of interacting with the acoustic space.
---
Specifications
24 MachFive Programs (.M5p)
5 MachFive Multis (.m5m)
3 Round Robin samples
Up to 3 velocity layers
87 Samples (44.1kHz / 24Bit)
1 Impulse Response
Formats: Kontakt and WAV
Sample sets including:
flute, horn, efxs, impulsive sounds, feedback sounds, sound designed instruments
---
---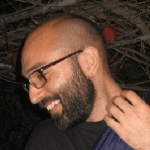 Salvatore Carannante
Sound Designer
Salvatore is a pianist and electroacoustic composer/performer. He studied Piano and Electronic Music at Music Conservatory of Naples, Italy. He is helping to develop a series of sample libraries entitled "Environments". His interests are in the research field as sound artist are focused on interaction between human-sound-environment. Many of his projects aim to the recycling of common objects into musical instruments.