[column type="2/3″][lightbox][image src="//www.audiothing.net/wp-content/uploads/2014/10/Piscina_Mirabilis_Kontakt_GUI.png" alt="Environments – Piscina Mirabilis" link="true"][/column][column type="1/3″ last="true"][custom_headline type="left" level="h2″ looks_like="h3″]Piscina Mirabilis[/custom_headline]
Environments
[showPriceLegacy product="environmentspiscinamirabilis" type="full"]
[x_icon type="cart-arrow-down"] ADD TO CART
    32-64bit
KONTAKT 4.2.4
[/column]
[column type="1/2″]Environments is a series of sample libraries inspired by our research in sound environments and the relationship of sound and space.
Environments "Piscina Mirabilis" features sound gestures from a handmade electroacoustic feedback setup and the impulse response (three different types) of "Piscina Mirabilis", a roman water cistern located in Bacoli, in the northwest of Gulf of Naples (Italy). The cistern, made in Augusts era, it's the biggest roman cistern of drinking water ever realized. The place is entirely made of tophus with a capacity of 12,000 cubic meters of water, it's 72 meters long and 25 meters large with a height of 15 meters.
The sampled instruments features feedback, strings, efx, and percussive sounds.
This library was inspired by a video by Salvatore Carannante, a musician who plays common or recycled everyday objects as a way of interacting with the acoustic space.
The setup consist of a handmade electroacoustic feedback system made of a several recycled objects such as a steel coffee can, plastic pipes, and modified springs used along with speakers and microphones. The result is an ensemble of resonators and reverberators in a unique environment.
Specifications
42 Kontakt Instruments (.nki)
Up to 5 Round Robin samples
161 Samples (44.1kHz / 32Bit)
3 Reverb Impulse Responses
Size: 225 MB
Formats: Kontakt and WAV
Sample sets including: nylon strings, steel strings, feedbacks, custom made instruments
[x_icon type="download"] Download Manual (.pdf)
[/column]
[column type="1/2″ last="true"][x_audio_embed][/x_audio_embed][/column]
[column type="1/2″]
Photos
[block_grid type="three-up"][block_grid_item][image link="true" src="//www.audiothing.net/wp-content/uploads/2014/10/Piscina-Mirabilis-1-150×150.jpg" href="//www.audiothing.net/wp-content/uploads/2014/10/Piscina-Mirabilis-1.jpg"][/block_grid_item]
[block_grid_item][image link="true" src="//www.audiothing.net/wp-content/uploads/2014/10/Piscina-Mirabilis-2-150×150.jpg" href="//www.audiothing.net/wp-content/uploads/2014/10/Piscina-Mirabilis-2.jpg"][/block_grid_item]
[block_grid_item][image link="true" src="//www.audiothing.net/wp-content/uploads/2014/10/Piscina-Mirabilis-3-150×150.jpg" href="//www.audiothing.net/wp-content/uploads/2014/10/Piscina-Mirabilis-3.jpg"][/block_grid_item]
[/block_grid]
[/column]
[column type="1/2″ last="true"]
[block_grid type="three-up"][block_grid_item][image link="true" src="//www.audiothing.net/wp-content/uploads/2014/10/Piscina-Mirabilis-4-150×150.jpg" href="//www.audiothing.net/wp-content/uploads/2014/10/Piscina-Mirabilis-4.jpg"][/block_grid_item]
[block_grid_item][image link="true" src="//www.audiothing.net/wp-content/uploads/2014/10/Piscina-Mirabilis-5-150×150.jpg" href="//www.audiothing.net/wp-content/uploads/2014/10/Piscina-Mirabilis-5.jpg"][/block_grid_item]
[block_grid_item][image link="true" src="//www.audiothing.net/wp-content/uploads/2014/10/Piscina-Mirabilis-6-150×150.jpg" href="//www.audiothing.net/wp-content/uploads/2014/10/Piscina-Mirabilis-6.jpg"][/block_grid_item]
[/block_grid][/column]
[column type="1/1″]
Videos
[x_video_embed no_container="true"]
[/x_video_embed][/column]
[column type="1/1″]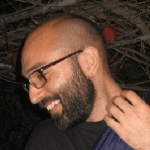 Salvatore Carannante
Sound Designer
Salvatore is a pianist and electroacoustic composer/performer. He studied Piano and Electronic Music at Music Conservatory of Naples, Italy. He is helping to develop a series of sample libraries entitled "Environments". His interests are in the research field as sound artist are focused on interaction between human-sound-environment. Many of his projects aim to the recycling of common objects into musical instruments.[/column]