Filterjam
Multiband Resonant Filter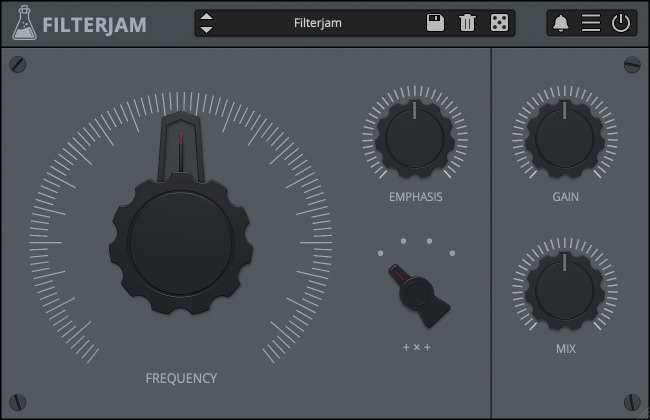 Resonant Freebie
Filterjam is a multi-band resonant filter delivering weird ringmod-like filtered sounds. The input signal is divided into 4 bands that are then summed or multiplied together according to the selected mode. Filterjam can be very harsh or gentle, it can add brightness or depth to synth sounds, but it can also completely mangle acoustic sources.
Grab it for Free!
Please, enter your name and email address to receive your download links.
Specifications
Multi-Band Resonant Filter
Oversample up to 16x
Lightweight on CPU
Preset system with randomizer
System Requirements
 Windows 7, 8, 10
2GHz CPU, 4 GB RAM
VST2, VST3, AAX, CLAP (64-bit)
 OS X 10.9 – macOS 12
2GHz CPU, 4 GB RAM
VST2, VST3, AU, AAX, CLAP (64-bit)
Universal 2 Binary
Freeware
Filterjam is a freeware plugin. Just put your email address in the form to get your download links.
No iLok
We don't like dongles
No Internet
No connection required to activate
2022/07/08: v1.3
Added: macOS 12 Monterey support (Universal 2 Binary)
Added: CLAP plugin format (beta)
Improved: CPU and memory usage
Improved: New Retina/HiDPI GUI
Fixed: Minor bugs
2020/05/11: v1.2.6
Fixed: rare crash on Windows systems when upgrading from older versions
2020/05/04: v1.2.5
Added: macOS 10.15 Catalina support
Added: Edit Value option for Knobs
Added: Notification System
Improved: Joined Parameter lock and Random lock
2019/08/07: v1.2
Added: Parameter lock
Improved: Oversampler Latency
2018/03/29: v1.1
Added: VST3 plugin format
Added: Preset Copy/Paste
Added: Global option – Resizable Window
Improved: Oversampler (now up to 16x)
Fixed: Automation bug in Pro Tools