Fog Convolver
True Stereo Convolver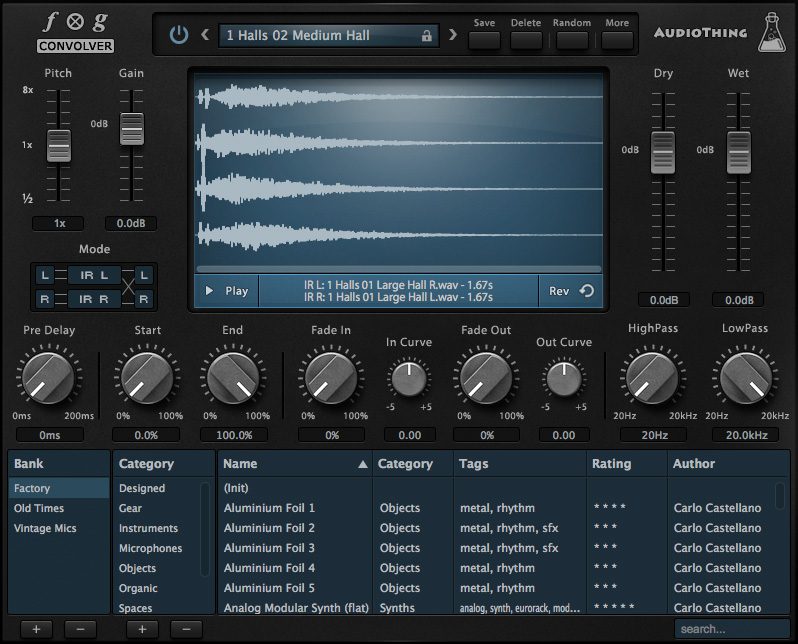 Convolution Processor
Fog Convolver is a true stereo convolution reverb/processor plugin. Convolution works by applying the sonic character of an impulse response to another sound in real time.
Fog Convolver can be used to add reverberation, create special effects, and apply an acoustic impulse captured from audio equipment.
An impulse response is a recording of the output that is caused by an acoustic space or electronic gear when an impulse is played (electric spark, starter pistol shot or the bursting of a balloon).
The factory bank features more than 250 impulse responses made from spaces, analog and digital equipment, speakers, organic sources, and more.
True Stereo
By clicking on the Mode box you can select two modes: Normal or True Stereo. True Stereo works by using two stereo impulse responses that are then mixed together.
You can either drag and drop two stereo files into the monitor (L+R) or you can drag separate stereo files (monitor top part for L, bottom for R).
True Stereo impulses are usually recorded simultaneously to capture a better stereo image, but you can also use two unrelated IRs to create experimental stereo reverbs.
Fog Convolver Demo
Try Fog Convolver for free with some limitations: silence for 3 seconds every 45 seconds, saving disabled.
If you like it, you can purchase a license and then authorize the demo version.
macOS
Requires macOS 10.7 or higher
AU, VST2, VST3, AAX (64bit only)
Windows
Requires Windows 7 or higher
VST2, VST3, AAX (64bit only)
Specifications
250+ Impulse Responses
True Stereo Mode
Lightweight real-time Convolution Engine
Impulse Response Export (drag to DAW/export to WAV)
Preset Browser with customizable categories, tags, rating, …
Size: MAC 190 MB / PC 170 MB
System Requirements
 Windows 7, 8, 10
2GHz CPU, 4 GB RAM
VST2 or AAX (64-bit)
 OS X 10.7 – macOS 10.15
2GHz CPU, 4 GB RAM
VST2, AU, or AAX (64-bit)
Copy Protection
To activate your plugin you can choose between Online and Offline authorization.
Create an account, log in through the plugin to activate, or download your license file for offline activation.
Activation
1 license up to 3 computers
No iLok
We don't like dongles
No Internet
No connection required to activate