Megaphone
Bullhorn and Loudspeaker Emulation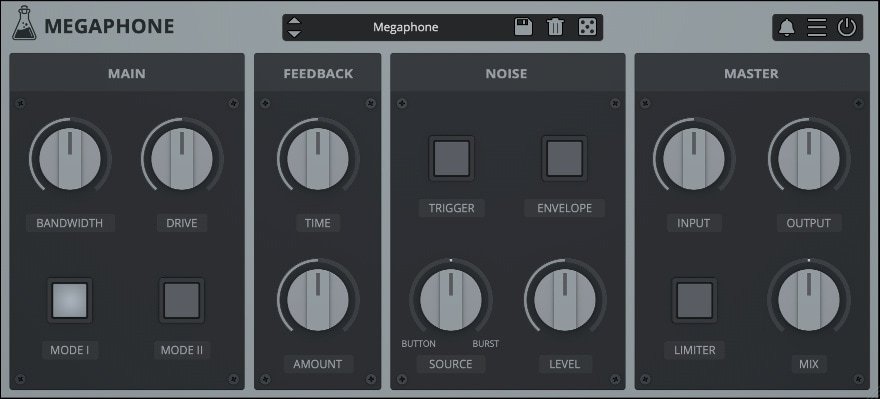 Bullhorn and Loudspeaker Emulation
Megaphone is a plugin that emulates an amplified bullhorn / PA loudspeaker.
It features two loudspeaker emulations (Mode I and Mode II), feedback control (slapback echo), and a noise section.
Megaphone can be used to make any audio source sound as if it's being played by a bullhorn.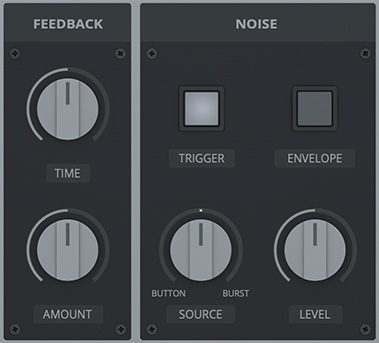 Feedback
The feedback section is essentially a slapback effect. When using megaphones, the output of the loudspeaker can be captured again by the input microphone, introducing a delay/reflection and the usual feedback tones (those can be triggered with high gain sources and feedback amount higher than 50%).
Noise
The megaphone noises can be enabled by the Trigger button. There are two types of noise: Button and Burst. You can balance the mix between the two noises with the Source parameter.
The button noise is the noise made by clicking on the megaphone button to enable its microphone.
The burst is the typical background noise of the loudspeaker.
If the envelope is enabled, the Burst noise will follow the transients of the input signal.
Megaphone Demo
Try Megaphone for free with some limitations: silence for 3 seconds every 45 seconds, saving disabled.
If you like it, you can purchase a license and then authorize the demo version.
macOS
Requires macOS 10.9 or higher
AU, VST2, VST3, AAX, CLAP (64bit only)
Windows
Requires Windows 7 or higher
VST2, VST3, AAX, CLAP (64bit only)
Linux
Requires Ubuntu 20.04 or newer
VST2, VST3, CLAP (64bit only)
Specifications
2 Loudspeaker emulations
Overdrive + Bandwidth control
Feedback / Slapback
Preset system with randomizer
System Requirements
Windows 7 – 11
2GHz CPU, 4 GB RAM
VST2, VST3, AAX, CLAP (64-bit)
OS X 10.9 – macOS 13
2GHz CPU, 4 GB RAM
VST2, VST3, AU, AAX, CLAP (64-bit)
Universal 2 Binary
Ubuntu 20.04 LTS
2GHz CPU, 4 GB RAM
VST2, VST3, CLAP (64-bit)
Copy Protection
To activate your plugin you can choose between Online and Offline authorization.
Create an account, log in through the plugin to activate, or download your license file for offline activation.
Activation
1 license up to 3 computers
No iLok
We don't like dongles
No Internet
No connection required to activate

2023/04/18: v1.5.4
Added: macOS 13 Ventura support
Added: Windows 11 support
Added: CLAP plugin format
Added: AAX Silicon Support
Added: Linux VST2, VST3, CLAP plugin formats
Improved: CPU and memory usage
Fixed: Popups not opening correctly with multiple instances in Logic Pro
Fixed: Minor bugs
2022/03/15: v1.5.3
Added: macOS 12 Monterey support (Universal 2 Binary)
Added: Light and Dark UI mode
Added: Internal support for left-hand mouse users
Improved: CPU and memory usage
Fixed: Potential crash with samplerates lower than 44.1kHz
2019/12/27: v1.5.2
Fixed: VST3 UI issue on Windows with scaling over 100%
Fixed: Conflicts with older AudioThing plugins
2019/11/29: v1.5.1
Added: macOS 10.15 Catalina support
Added: Parameter Lock
Added: Edit Value option for Knobs
Added: Notification System
Improved: CPU and memory usage
Fixed: DSP not updating properly on some presets
Fixed: Minor graphics issues when closing multiple plugins
2019/03/01: v1.5
Added: VST3 plugin format
Added: Online Authorization Form
Added: Noise Source Parameter
Added: Global option – Resizable Window
Improved: New GUI with support for Retina/HiDPI displays
Fixed: MAC with High Sierra (APFS) presets scrambled
Fixed: Bypass noise in Pro Tools