Megaphone
Bullhorn / Loudspeaker emulation
$15
32-64bit
VST / AU / AAX

Megaphone
is a plugin that emulates an amplified bullhorn / PA loudspeaker.
It features two loudspeaker emulations, feedback (slapback) control and a noise section. Megaphone can be used to make any audio source sound as if it's being played by a bullhorn.
Specifications
2 Loudspeaker emulations
Overdrive + Bandwidth control
Feedback / Slapback
Preset system with randomizer
Formats: VST, AU, and AAX (32/64bit)
Platforms: OSX, Windows
Minimal Requirements
Windows XP SP2 / OSX 10.7
Intel Core 2 Duo 2GHz or equivalent
2 GB RAM / 500 MB HD
Screen resolution: 1024×768
VST2, AU, or AAX 32-bit or 64-bit host
---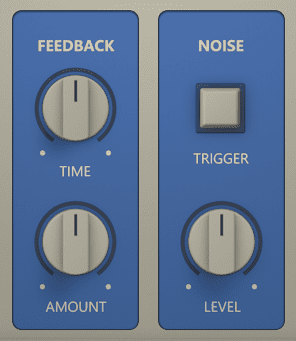 Feedback
The feedback section is essentially a slapback effect. When using megaphones, the output of the loudspeaker can be captured again by the input microphone, introducing a delay/reflection and the usual feedback tones (those can be triggered with high gain sources and feedback amount higher than 50%).
Noise
The megaphone noises can be enabled by the Trigger button. There are two types of noise: Button and Burst. You can choose which one you want to enable by clicking on the More button and then Noise Settings .
The button noise is the noise made by clicking on the megaphone button to enable its microphone.
The burst is the typical background noise of the loudspeaker.
If envelope is enabled, the Burst noise will follow the transients of the input signal.

---