Phase Motion 2
Advanced Stereo Phaser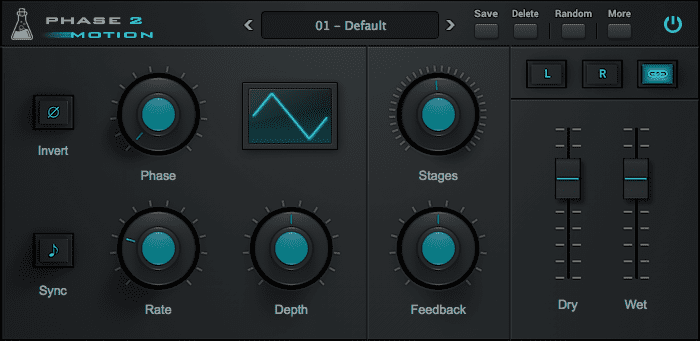 Stereo Phaser
Phase Motion 2 is a stereo phaser plugin featuring up to 32 phasing stages.
The Rate can be adjusted in Hertz or it can be synced to the host/DAW tempo. You can choose 6 waveforms (sine, triangle, ramp up, rump down, square, random) to modulate the phase, and you can tweak Depth and Feedback to get a classic vintage phaser sound or extreme digital modulations.
Stereo Phaser
Phase Motion 2 is a stereo phaser, meaning you can have different settings on each channel. Essentially it is like having two phasers, one for the Left and one for the Right channel.
By clicking on the L or R button, the parameters will only control the selected channel. Instead, when the Link icon is selected, both L and R parameters will be affected.
Tips to make a thicker stereo phaser sound:
Have the same settings on both L and R channel, but slightly change one or two parameters on one channel only.
Have a positive amount of Feedback on one channel, and a negative amount on the other channel.
Use the Invert button only on one channel.
Phase Motion 2 Demo
Try Phase Motion 2 for free with some limitations: silence for 3 seconds every 45 seconds, saving disabled.
If you like it, you can purchase a license and then authorize the demo version.
macOS
Requires macOS 10.9 or higher
AU, VST2, VST3, AAX (64bit only)
Windows
Requires Windows 7 or higher
VST2, VST3, AAX (64bit only)
Specifications
32 Phasing Stages
6 LFO Waveforms
Rate can be synced to the host tempo
Lightweight on CPU
Preset system with randomizer
System Requirements
Windows 7, 8, 10
2GHz CPU, 4 GB RAM
VST2, or AAX (64-bit)
OS X 10.9 – macOS 10.13
2GHz CPU, 4 GB RAM
VST2, AU, or AAX (64-bit)
Copy Protection
To activate your plugin you can choose between Online and Offline authorization.
Create an account, log in through the plugin to activate, or download your license file for offline activation.
Activation
1 license up to 3 computers
No iLok
We don't like dongles
No Internet
No connection required to activate