Space Strip
Modular Channel Strip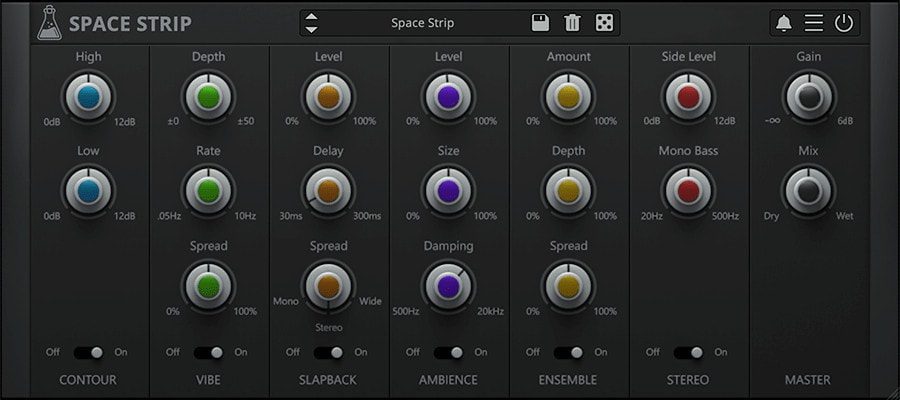 Modular Effects
Space Strip is a multi-effect plugin featuring 6 modules: Contour, Vibe, Slapback, Ambience, Ensemble, and Stereo. The modules can be arranged in any combination by simple drag-n-drop. Space Strip will add depth and space to your sounds, especially synth and keyboards. The plugin is optimised to be lightweight on the CPU.
6 Modules
Space Strip combines 6 modules to add depth and space to your sounds.
Contour, 2-band EQ
Vibe, stereo vibrato
Slapback, short echo module
Ambience, short reverb module
Ensemble, multi-voices chorus
Stereo, stereo manipulation
Drag and Drop
You can customize your channel strip with a simple drag-and-drop.
By default, all modules (except the Master module) can be moved and re-arranged to create different signal flows.
For example, you can decide to add the compressor module after the Vinyl emulation, or vice versa.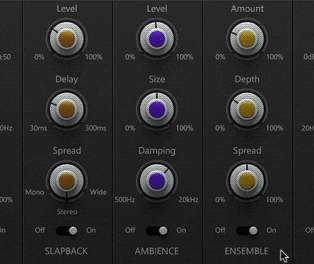 Reviews
"A great multi-effect (channel strip) for musicians looking to enhance their tracks without breaking their budget. A highly desirable plugin to have in the toolkit in the event a smaller CPU footprint is required when mixing – 4.75/5"
Gearspace. Web forum for audio recording engineers and self recording musicians.
Space Strip Demo
Try Space Strip for free with some limitations: silence for 3 seconds every 45 seconds, saving disabled.
If you like it, you can purchase a license and then authorize the demo version.
macOS
Requires macOS 10.9 or higher
AU, VST2, VST3, AAX, CLAP (64bit only)
Windows
Requires Windows 7 or higher
VST2, VST3, AAX, CLAP (64bit only)
Linux
Requires Ubuntu 20.04 or newer
VST2, VST3, CLAP (64bit only)
Specifications
6 modules: Distortion, Compressor, Bit Crusher, Tilt EQ, Reverb, and Vinylizer
All modules can be arranged by drag-n-drop
Lightweight on CPU
25 Presets
Preset system with randomizer
System Requirements
Windows 7 – 11
2GHz CPU, 4 GB RAM
VST2, VST3, AAX, CLAP (64-bit)
OS X 10.9 – macOS 13
2GHz CPU, 4 GB RAM
VST2, VST3, AU, AAX, CLAP (64-bit)
Universal 2 Binary
Ubuntu 20.04 LTS
2GHz CPU, 4 GB RAM
VST2, VST3, CLAP (64-bit)
Copy Protection
To activate your plugin you can choose between Online and Offline authorization.
Create an account, log in through the plugin to activate, or download your license file for offline activation.
Activation
1 license up to 3 computers
No iLok
We don't like dongles
No Internet
No connection required to activate
2023/04/24: v1.2
Added: macOS 12 Monterey support (Universal 2 Binary)
Added: CLAP plugin format
Added: AAX Silicon Support
Improved: CPU and memory usage
Fixed: Potential AU validation crash
2020/04/30: v1.1.2
Fixed: Mono and Mono to Stereo modes causing noises in some hosts
2020/02/19: v1.1
Added: macOS 10.15 Catalina support
Added: VST3 plugin format
Added: Parameter Lock
Added: Edit Value option for Knobs
Added: Notification System
Added: Online Authorization Form
Added: Global option – Resizable Window
Added: 10 New Presets
Improved: Modules bypass
2017/07/04: v1.0.1
Fixed bug causing noise burst on some hosts (FL Studio 32bit, Maschine)