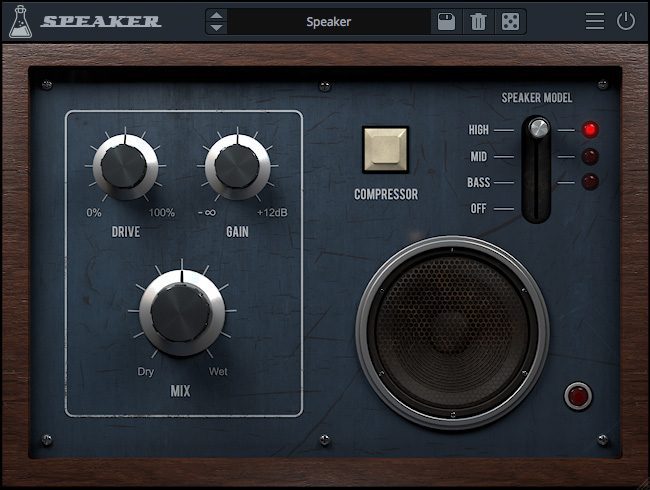 OVERDRIVE WITH SPEAKER EMULATION
Speaker is a simple overdrive effect with speaker emulation. It also features a fixed compressor, gain stage and mix knob. Speaker can be used to make any audio source sound as if it's being played on an old radio. It can also be used to emulate a cheap guitar cabinet or to give harshness to any sound.
"Speaker delivers an excellent overdrive and/or speaker simulation effect that is perfect for giving guitars a cheap catalogue cabinet crunch and vocals an old time radio effect."
Gearslutz. Web forum for audio recording engineers and self recording musicians.
"AudioThing's cheery little gadget gets everything right, and is one you'll find yourself reaching for time and time again as both a quick fix for overly clean instrumentation and an overt special effect. 9/10"
Computer Music Magazine. The world's best selling magazine dedicated to making great music with your Mac or PC.
SPECIFICATIONS
3 Speaker emulations: bass, mid, high
Overdrive with Gain stage
Fixed Compressor
Preset system with randomizer
SYSTEM REQUIREMENTS
Windows XP SP2, 7, 8, 10 (32/64 bit)
Intel Core 2 Duo or AMD Athlon 64 X2, 4 GB RAM
VST2, VST3, or AAX, 32-bit or 64-bit host
OS X 10.7 – macOS 10.13
Intel Core 2 Duo, 2 GB RAM
VST2, VST3, AU, or AAX, 32-bit or 64-bit host
2018/06/18: v1.5
– Added: Online Authorization Form
– Added: Oversample up to 16x
– Added: VST3 plugin format
– Added: Smoothed bypass
– Added: Soft limiter
– Added: Preset Copy/Paste to/from Clipboard
– Added: Global option – Resizable Window
– Added: 5 New Presets
– Improved: Compressor Algorithm
– Fixed: Pro Tools stepped automation bug
– Fixed: Gain inconsistencies when changing samplerate
– Fixed: Bypass button state
2016/05/25: v1.1.0
– Added Oversample option (2x and 4x)
– Added L+R to Mono mode
– Speaker models can now be selected by clicking on the labels/LEDs