Speakers
Microphone and Speaker Simulations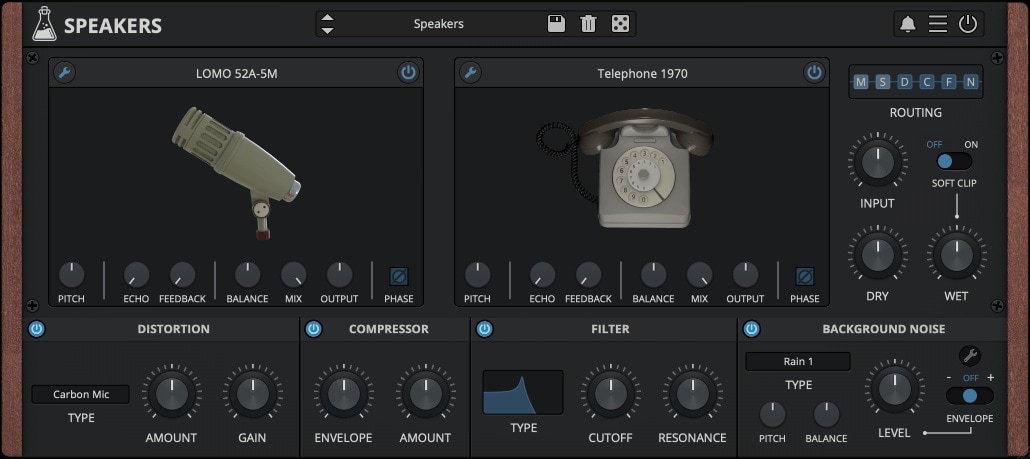 Microphones and Speakers
Speakers is a plugin effect designed to emulate a wide range of loudspeakers and microphones using our state-of-the-art convolution engine.
Shape any sound like it's being played by an old telephone, radio, or classic cabinet; or shape it like it's being recorded by a vintage ribbon microphone or even a toy recorder.
Speakers features a freely configurable effects chain, comprising compression, distortion, and filtering, as well as an array of looping background noises for setting the sound in a variety of environments.
Speakers is a zero-latency* post-production dream plugin. No iLok or any other dongle required!

Speakers is available for MAC, PC, and LINUX (VST, VST3, AU, AAX, CLAP, 64-bit only), and also as AUv3 and Standalone on the App Store.
Speakers features:
61 speakers: cabinets, devices, phones, radios, speakers, toys
42 microphones: condensers, dynamics, phones, ribbons, and more
18 distortion/degradation algorithms: from carbon mic overdrive to GSM interference
42 background noises: devices, places, organic, and more
Selection of Speakers' IR Collection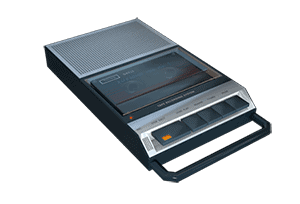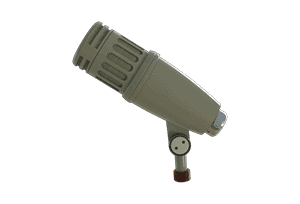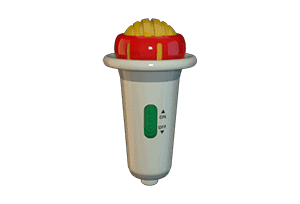 Full list of Speakers and Microphones
SPEAKERS
Cabinets
Davori
Farfiza
Marsha
Meza
Twin
Devices
Boombox
Card Reader
Computer II
Computer ZX
Electronic Organ
Intercom
PA Horn
Megaphone 1
Megaphone 2
Microcassette Recorder
Retro Portable
Tape Player C1
Tape Recorder 1
Tape Recorder 2
TV 1
TV 2
Walkman
Wurlitzer
Phones
Earbuds
Smartphone 1
Smartphone 2
Tablet
Telephone 1960
Telephone 1970
Telephone Cheap
Telephone Dialler
Radios
Model One
Radio 1
Radio 2
Radio 3
Radio 4
Telefunken
Soviet Dark
Soviet Hexagon
Soviet Orange
Soviet Yellow
Speakers
Bluetooth 1
Bluetooth 2
Geloso 1
Geloso 2
Piezo 1
Piezo 2
Piezo 3
PIezo 4
Speaker (tiny)
Speaker (small)
Speaker (medium)
Speaker (broken)
Speaker (cube)
Speaker (oval)
Toys
Gameboy
Speak and Spell
SX150
Toy Keyboard
Toy Recorder
VL Tone
MICROPHONES
Condensers
Card Reader
Lavalier
S-25
SE
Shotgun
Sound Level Meter
Toy Mic 1
Toy Mic 2
Dynamics
CB Radio
Dynamics Instrument
Dynamics Vocal
EV RE20
GDM 12
GDM 15
MD405
MD421 M
MD421 S
LOMO 52A-5M
S 510C
Talk-back
T28
Misc
Piezo 1
Piezo 2
Piezo 3
Piezo 4
Inductor
Subkick
Phones
Earbuds
Smartphone 1
Smartphone 2
Tablet
Telephone 1960
Telephone 1970
Ribbon
Amperite RA
Bm2
DoReMi 351
EMI / HMV
Framez
GK Type 1492
M260
M500
Marconi Type B
Type G
Routing
The Routing panel enables limitless reordering of Speakers' signal flow. To move a module, simply drag it left or right. The Input module marks the point at which the source signal enters the signal path, disregarding everything to the left. This can be useful for, for example, having the Noise pass through certain modules prior to being joined by the input signal further down the path.


Rearrange the modules with a simple drag and drop
Disable a module with CMD or CTRL + Click.
Change the Input position, make sure the lock is open by clicking on it.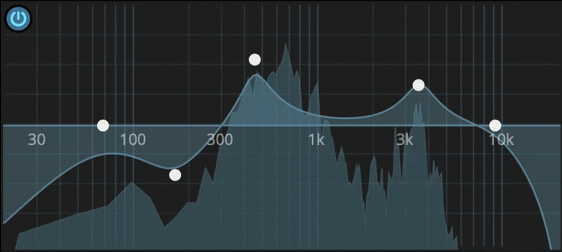 Equalizers
Clicking the spanner button at the top left of either panel reveals a five-band EQ – low and high shelves and three parametric bands – for shaping the frequency response of the Microphone and Speaker emulations.
Drag the nodes around to set band frequencies and gains, scroll the mousewheel over a node to tweak the Q, double click to reset the band.
Distortion / Degradation
Speakers features 15 distortion and degradation algorithms for post-production and sound design.
Distortion: Carbon Mic, Classic Drive, Diode Clipper, Foldover, Soft Drive, Tape, Valve.
Degradation: Bit Crusher, Clicks, Drops, GSM, Interference, Quantization, Radio Gate, Robotization, Telecom, VoIP (by Lese Audio Technologies), Warble.

Speakers Demo
Try Speakers for free with some limitations: limited selections of speakers and microphones, silence for 3 seconds every 2 minutes, saving disabled.
It's not possible to authorize the demo version, you'll find the full version installer in your user area.
macOS
Requires macOS 10.9 or higher
AU, VST2, VST3, AAX, CLAP (64bit only)
Windows
Requires Windows 7 or higher
VST2, VST3, AAX, CLAP (64bit only)
Linux
Requires Ubuntu 20.04 or newer
VST2, VST3, CLAP (64bit only)
Specifications
57 Speakers
42 Microphones
18 Distortion/degradation algorithms
42 Background noises (190MB)
EQ, Compressor, Multimode Filter
Flexible Routing
Zero Latency* / Ultra Low CPU
Resizable Window
Preset system with randomizer
System Requirements
Windows 7 – 11
2GHz CPU, 4 GB RAM
VST2, VST3, AAX, CLAP (64-bit)
OS X 10.9 – macOS 13
2GHz CPU, 4 GB RAM
VST2, VST3, AU, AAX, CLAP (64-bit)
Universal 2 Binary
Ubuntu 20.04 LTS
2GHz CPU, 4 GB RAM
VST2, VST3, CLAP (64-bit)
Copy Protection
To activate your plugin you can choose between Online and Offline authorization.
Create an account, log in through the plugin to activate, or download your license file for offline activation.
Activation
1 license up to 3 computers
No iLok
We don't like dongles
No Internet
No connection required to activate
Speakers features our state-of-the-art convolution engine with zero latency. However, some degradation algorithms will introduce some latency (based on the FFT size parameter or other parameters).
2023/07/19: v1.2.5
Added: 4 speaker models (Soviet Radios: Hexagon, Yellow, Orange, Dark)
Added: Linux VST2, VST3, CLAP plugin formats
Added: AAX Silicon Support
Improved: Redesigned VoIP Algorithm
Improved: Contrast and brightness of some GUI elements
Fixed: Some presets not loading correctly
Fixed: AAX Automation Bug
2022/11/09: v1.2.3
Added: 8 mic models (Lavalier, GDM12, MD405, MD421 M, MD421 S, Piezo 4, Shotgun, T28)
Added: 1 speaker model (Piezo 4)
Added: macOS 13 Ventura support
Added: Windows 11 support
Fixed: EQ Parameter Lock not working properly
2022/07/15: v1.2.2
Added: CLAP plugin format (beta)
Improved: CPU and memory usage
Fixed: Sessions not recalling models correctly in some hosts
2022/05/18: v1.2.1
Added: 1 speaker model (Card Reader)
Added: 2 mic models (Card Reader, Sound Level Meter)
Added: macOS 12 Monterey support
Added: Option to change Pitch Unit (speed and semitones)
Added: French language
Improved: Removed wrong tail from some models
Improved: Updated graphic resources
Improved: Bit Crusher sound quality
Fixed: Bit Crusher initialisation issue on Windows
Fixed: Background Noise not recalling properly in Maschine 2
2021/05/24: v1.2
Added: macOS 11 Big Sur support (Universal 2 Binary)
Added: 5 speaker models (Computer II, Computer ZX, Retro Portable, TV 2, VL Tone)
Added: Support for multi-language (beta)
Improved: VoIP algorithm stability and sound
Improved: GUI and loading time
Fixed: Init preset not loading correctly when adding the plugin for the first time
Fixed: Logic Pro random crash when loading a saved project
Fixed: Rendering Offline silence on first load for batch processing
Fixed: Activation Issue on some DAWs
2020/11/26: v1.1
Added: 3 speaker models (Tape Player C1, Telephone Dialler, Microcassette Recorder)
Added: 2 mic models (GDM 15, Toy Mic 2)
Added: 3 degradation algorithms (Radio Gate, VoIP, Warble)
Added: 4 background noise (Tape Recorder, Fans, Vinyl 1, Vinyl 2)
Added: Pitch and Balance controls for the background noises
Added: Noise Envelope Attack and Release Controls
Added: Option to load models inside the Audio Thread (potentially fixing offline rendering issues)
Added: Light and Dark UI mode
Added: Option to enable Accelerated GUI
Improved: macOS CPU usage
Improved: Envelope labels are now clickable
Fixed: Ableton Live 10 crashing when loading a project with VST3 and Robotization or Quantization effect enabled
Fixed: Rendering Offline issue while there's a Speaker or Mic Type automation
Fixed: Parameter locks not recalling properly when loading saved projects
2020/06/17: v1.0.1
Added: Global Setting to switch from Dry/Wet to a single Mix control
Improved: Minor graphic glitches
Fixed: Ribbon Microphones not loading properly in the DEMO version
2020/06/11: v1.0