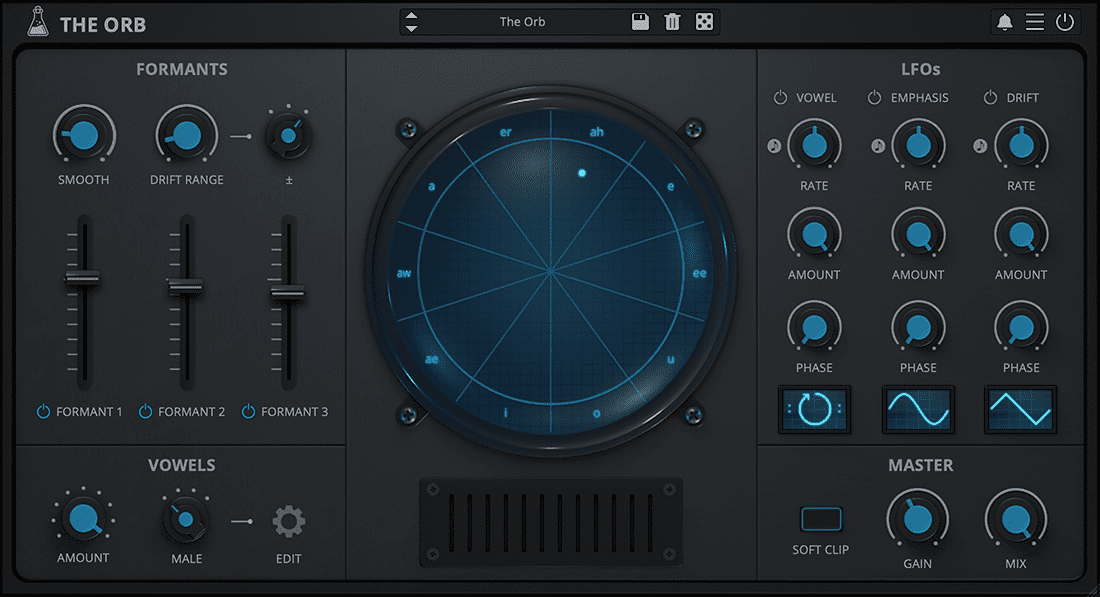 FORMANT FILTER
The Orb is a formant filter plugin which simulates the characteristics of the human voice. Featuring a set of three band pass filters, The Orb can transform any sound into a vowel-like formant-filtered sound. With the three LFOs you can modulate the Vowel, the Emphasis/Resonance of the formants, and the Drift, which can shift up or down the frequencies of each formant. You can also create your own set of vowels by changing name and frequency for each vowel/formant.
THE ORB
Each sector of the orb represents a Vowel. It's possible to change the vowel for each sector by clicking on the vowel name.
The distance from the center of the orb to the dot represents the amount of Emphasis (resonance) for each formant filter.
The angle of each sector represents the amount of Drift, which is a value in Hz that will be added or subtracted from each vowel formant.
CUSTOM VOWELS
By clicking on the Edit button in the Vowels section, you can access the Custom Vowels window.
It's possible to change each vowel name and frequency for the three formants.
Each custom vowels set will be saved in a preset (or DAW session), so you can create as many as you want by saving to a new preset.
The default setting is the same as the Male genre settings.
"I love making my synths talk and using The Orb by @audiothing is one of the coolest ways to do it!"
Jordan Rudess. Dream Theather Keyboardist and Composer.
"Give any sound that vocalised vibe with the well-rounded latest effect from this fast-rising star of plugin development. The Orb is a must-hear creative processor for any electronic music producer. 9/10"
Computer Music Magazine. The world's best selling magazine dedicated to making great music with your Mac or PC.
"I haven't come across an audio plugin like this. It functions as a Phaser, Talkbox, Step Sequencer, Filter and Vocal synth. Depending on how you use it, you can get surprising results."
Matthew Sims. Audio Engineer / Producer who has worked with artists Pusha T, Usher, Frank Ocean, J Cole, Bon Jovi, Kai, Jennifer Lopez, Pentatonix, Lewis Hamilton, Craig David, Elle King, Post Malone, Lauryn Hill, Mike Posner, Keith Richards and more.
SPECIFICATIONS
Three Band Pass Filters (ZDF design)
Vowel Sets: Male, Female, Child and Custom
3 LFOs (destinations: Vowel, Emphasis and Drift)
Lightweight on CPU
Presets system with randomizer
SYSTEM REQUIREMENTS
Windows XP SP2, 7, 8, 10 (32/64 bit)
Intel Core 2 Duo or AMD Athlon 64 X2, 4 GB RAM
VST2, VST3, or AAX, 32-bit or 64-bit host
OS X 10.7 – macOS 10.13
Intel Core 2 Duo, 2 GB RAM
VST2, VST3, AU, or AAX, 32-bit or 64-bit host
2018/07/23: v1.1
– Added: Online Authorization Form
– Added: Smoothed bypass
– Added: Preset Copy/Paste to/from Clipboard
– Added: Global option – Resizable Window
– Added: VST3 plugin format
– Added: 25 new presets
– Fixed: Random Lock for LFO waveforms
– Improved: LFO Sync stability
– Improved: LFO Vowel Phase Parameter
– Improved: Preset Browser with sub-categories
2017/02/27: v1.0.1
– Extended LFO rate range from 0.01Hz to 2kHz (enable from More button)
– Improved CPU performance
– Fixed Vowel Editor default number bug
– Fixed Pro Tools stepped automation bug