Valves
Vintage Tube Overdrive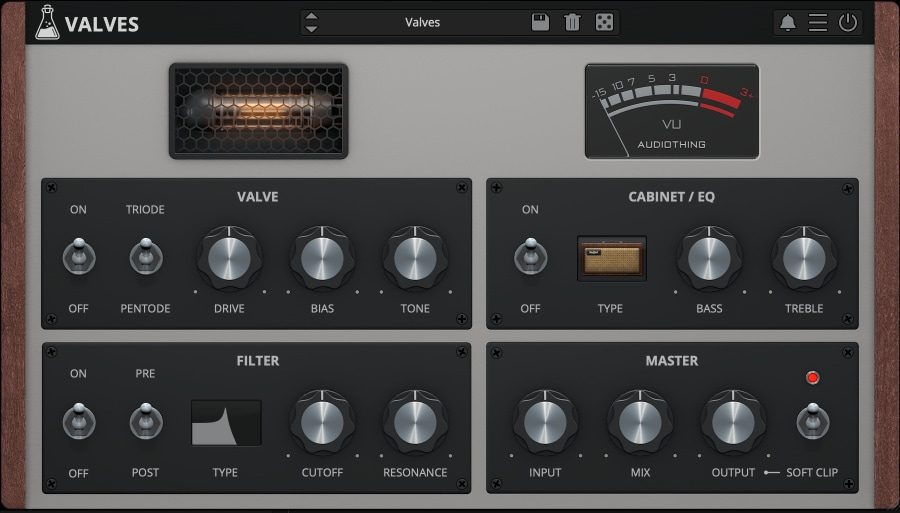 Vintage Valve Emulation
Valves is a vintage valve emulation plugin with multimode resonant filter and cabinet/EQ section.
The valve section is modelled after classic vintage tubes, with added grit and custom gain control.
The filter section is modelled after a classic ladder filter (2-pole or 4-pole) with low pass, high pass, bandpass and notch modes.
The cabinet/EQ section features a selection of modelled cabinets with classic bass and treble EQ controls.
Valves is available for MAC, PC, and LINUX (VST, VST3, AU, AAX, CLAP, 64-bit only), and also as AUv3 and Standalone on the App Store.
Warm Up
With up to 16x oversampling, Valves can be used to add that authentic tube character to your tracks.
Using the built-in Cabinet/EQ section you can emulate several types of guitar amplifiers and further shape the overdrive sound.
The state variable filter features LowPass, HighPass, BandPass, and Notch modes. It can be used pre or post valve.
Valves Demo
Try Valves for free with some limitations: silence for 3 seconds every 45 seconds, saving disabled.
If you like it, you can purchase a license and then authorize the demo version.
macOS
Requires macOS 10.9 or higher
AU, VST2, VST3, AAX (64bit only)
Windows
Requires Windows 7 or higher
VST2, VST3, AAX (64bit only)
Linux
Requires Ubuntu 20.04 or newer
VST2, VST3, CLAP (64bit only)
Specifications
Tube Overdrive
8 cabinets with Bass and Treble EQ
State Variable Filter: LP, HP, BP, and Notch (2 or 4-pole)
16x Oversample
35 Presets
Resizable Window
Preset system with randomizer
System Requirements
Windows 7 – 11
2GHz CPU, 4 GB RAM
VST2, VST3, AAX, CLAP (64-bit)
OS X 10.9 – macOS 13
2GHz CPU, 4 GB RAM
VST2, VST3, AU, AAX, CLAP (64-bit)
Universal 2 Binary
Ubuntu 20.04 LTS
2GHz CPU, 4 GB RAM
VST2, VST3, CLAP (64-bit)
Copy Protection
To activate your plugin you can choose between Online and Offline authorization.
Create an account, log in through the plugin to activate, or download your license file for offline activation.
Activation
1 license up to 3 computers
No iLok
We don't like dongles
No Internet
No connection required to activate
2023/09/14: v1.1.1
Added: Valve Drift option
Improved: Valve internal filtering response
Fixed: Latency compensation filtering Dry signal
Fixed: Filter Type and Cabinet parameter not recalling correctly
2023/08/31: v1.1
Added: CLAP plugin format
Added: Linux VST2, VST3, CLAP plugin formats
Added: Windows 11 support
Added: macOS 13 Ventura support
Added: AAX Silicon Support
Improved: Labels for switch are now changing colours
Improved: CPU and memory usage
Fixed: Minor bugs
Fixed: Filter Resonance not locking correctly with randomiser
Fixed: GUI Acceleration settings
Fixed: Popups not opening correctly with multiple instances in Logic Pro
2021/06/15: v1.0.3
Added: macOS 11 Big Sur support (Universal 2 Binary)
Added: Light and Dark UI mode
Added: Option to enable Accelerated GUI
Added: Internal support for left-hand mouse users
Improved: GUI size and loading time
2019/11/04: v1.0.2
Added: macOS 10.15 Catalina support
Added: Edit Value option for Knobs
Added: Notification System
Improved: Bypass State GUI
Fixed: EQ Response
2019/07/25: v1.0.1
Fixed: Crash when loading a preset with Oversampling
2019/07/03: v1.0