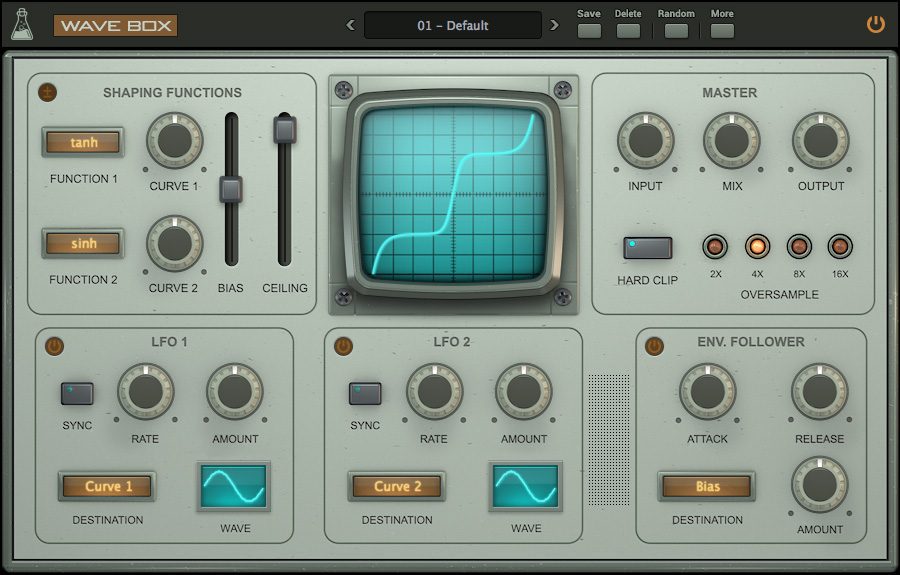 Wave Box
Dynamic Dual Waveshaper
$49
32-64bit
VST / AU / AAX
Wave Box is a dynamic dual waveshaper plugin that can be used for both symmetrical and asymmetrical distortion. A waveshaper is a type of distortion in which the input signal is mapped to the output by applying a fixed or variable shaping function.
Wave Box features two separate waveshapers that can be mixed together while being modulated by 2 LFOs and 1 Envelope Follower. You can design your own waveshaping curves by combining and adjusting 6 pre-defined functions (tanh, sinh, sin, linear, floor, round). Wave Box can range from mild tube-flavoured overdrive to extreme digital harshness.
Specifications
2 Waveshapers
6 Shaping Functions
2 LFOs with 6 Waveforms
Envelope Follower
Oversample up to 16x
30 Factory Presets
Preset system with randomizer
Formats: VST, AU, and AAX (32/64bit)
Platforms: OSX, Windows
Download Manual (.pdf)

PC Demo
MAC Demo
In demo mode the plug-in will output silence for 3 seconds every 45 seconds.
Minimal Requirements
Windows XP SP2 / OSX 10.7
Intel Core 2 Duo 2GHz or equivalent
2 GB RAM / 500 MB HD
Screen resolution: 1024×768
VST2, AU, or AAX 32-bit or 64-bit host

---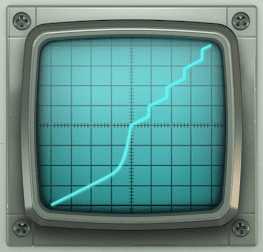 Symmetrical vs Asymmetrical Waveshaping
When a shaping function is applied equally to both the positive and negative part of the signal (symmetrical waveshaping), odd harmonics are generated. Instead, when a shaping function is applied only to either the positive or the negative part (asymmetrical waveshaping), even harmonics are generated.
In Asymmetrical Mode (± on), the first shaping function is applied to the positive part while the second shaping function is applied to the negative. The Bias, in this case, controls an offset added between the positive and negative part of the signal.
In Symmetrical Mode (± off), both shaping functions are applied to the whole signal. The Bias, in this case, controls the mix between the two functions.
---
Reviews
Recommended for: any electronic musician, producer or mixing engineer looking for a plug-in to add some extra edge to their sounds or mangle them to oblivion in a straightforward way.
4.5/5 – Gearslutz review:
link
Wave Box not only sounds wicked but also demonstrates impressive versatility, despite its apparently straightforward architecture.
9/10 – Computer Music Magazine review:
link
---
Videos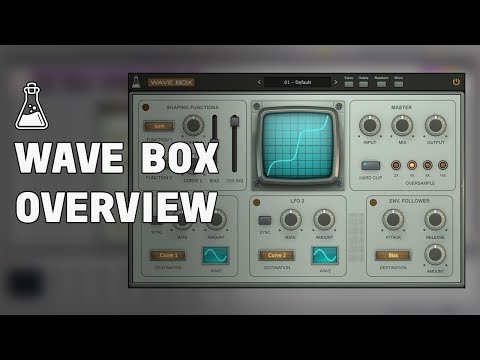 Wave Box Overview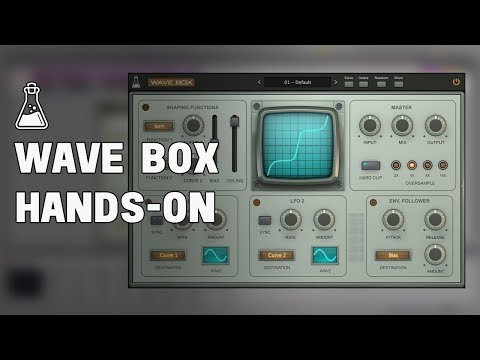 Wave Box Hands-On