Wires
Soviet Wire Recorder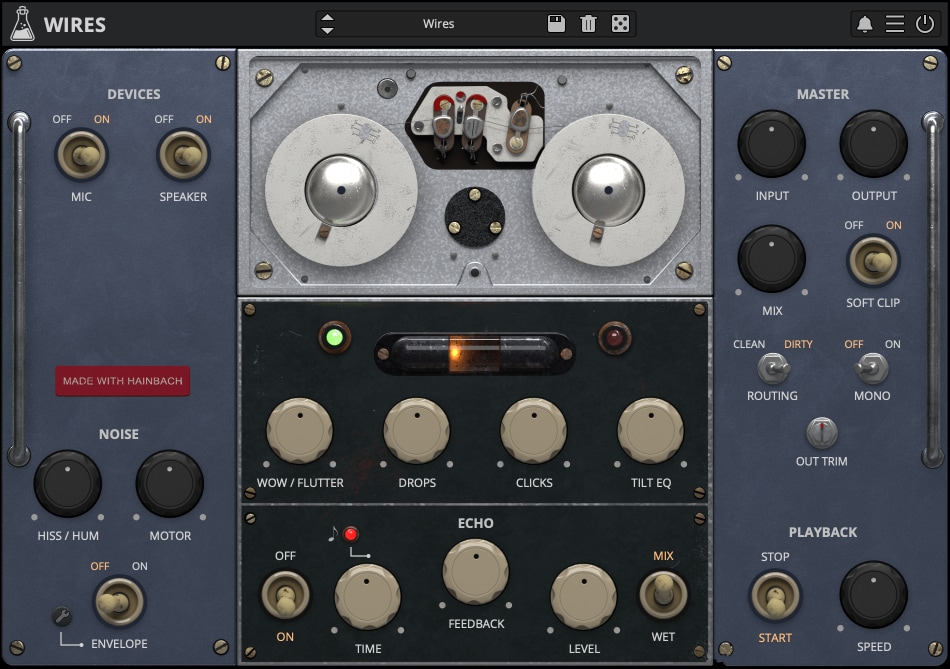 Soviet Wire Recorder Echo
Turn the echoes of the past into the music of now
German composer and YouTuber Hainbach opened his treasure chest for us: we are happy to present to you Wires, an accurately modeled and enhanced 1970s Soviet wire recorder.
Made originally for military and secret service use across the Iron Curtain, in the hands of a few avant garde musicians it became a magical lofi-tool and ghostly echo machine. Now this rare and rather finicky to operate piece of hardware is available for the first time as a faithful yet modern plugin. Transform your audio to the world of numbers stations and secret operations, dub out to very unusual echoes or make the most lofi beats to study too.
We took great care to get all the idiosyncratic behaviour exactly right – it reacts dynamically to the input and does stuff to audio that is a completely different texture to magnetic tape. There is a special tone to the hair-thin wire and the vacuum tube output stage of this machine, unheard of anywhere else. The standard way to make a unit such as this music is to put it on an aux channel of a mixer, to turn it into a fixed tempo echo. We offer all the variable time features you want, as well as the option to switch off the rather high noise floor of this machine without sacrificing the rather alive sound.
Wires is available for MAC, PC, and LINUX (VST, VST3, AU, AAX, CLAP, 64-bit only), and also as AUv3 and Standalone on the App Store.
Wire Recorders
Magnetic wire recorders went out of fashion after the advent of magnetic tape, surviving only in special operations such as flight recorders, space flight, or clandestine operations (wearing a wire denotes not the cable but the recorder). The particular model of recorder we modeled, the MN61, comes from East German Army stock – on the reels you could still hear traces of military operations.
Lo-Fi
Who needs tape for lo-fi? This machine is taking the term "lo-fi" to an entirely new and haunting level.
There is a special tone to the hair-thin wire and the vacuum tube output stage of this wire recorder, unheard of anywhere else.
Wires turns the most boring signals into sepia coloured magic.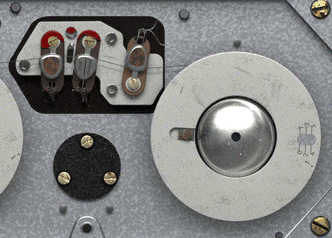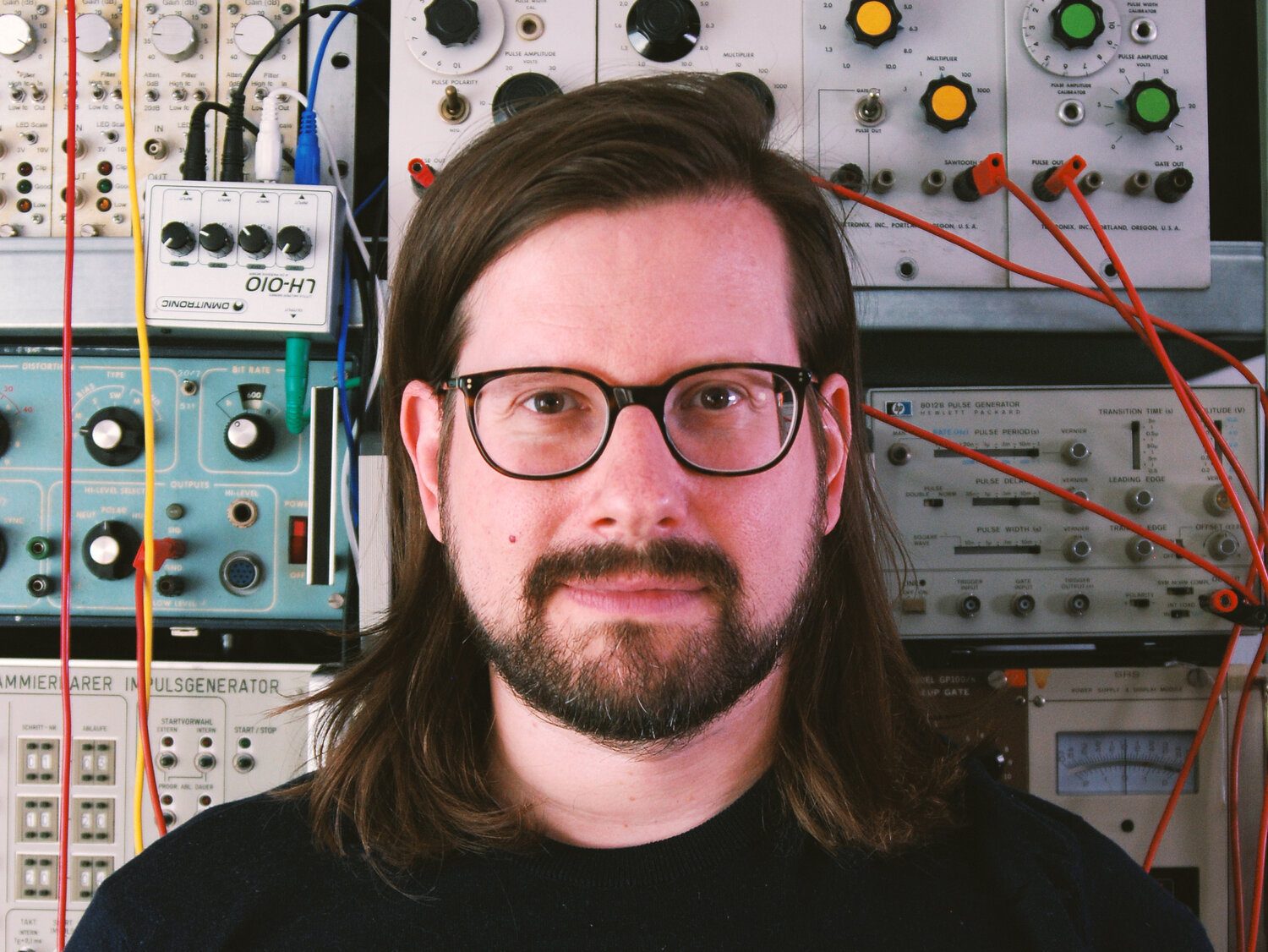 Hainbach
Based out of Berlin, Germany, electronic music composer and performer Hainbach creates shifting audio landscapes THE WIRE called "One hell of a trip". He has been fascinated with electronic sounds since he discovered the dial on the radio. Never losing his childhood wonder, he still searches for the sounds in between on modular synths, tape, and test equipment, making even the unmusical "music". Through his YouTube channel, Hainbach brings experimental music techniques to a wider audience.
What people think of Wires
AudioThing have done a bang-up job of the very challenging work of modeling non-linear magnetic recording mechanisms.
– Peter Kirn
This is a wild one! Don't abuse.
Possible side effect: hearing voices.
– Bob Major
It's like finding that ancient reel of tape in the flea market and being transported back in time.
-Andrew Lagowski
I've been struggling to release an EP of some ambient/electronic music but have consistently felt that something was missing. FOUND IT!!!!!
-Danielle O'Hallisey
Wires Demo
Try Wires for free with some limitations: silence for 3 seconds every 45 seconds, saving disabled.
If you like it, you can purchase a license and then authorize the demo version.
macOS
Requires macOS 10.9 or higher
AU, VST2, VST3, AAX, CLAP (64bit only)
Windows
Requires Windows 7 or higher
VST2, VST3, AAX, CLAP (64bit only)
Linux
Requires Ubuntu 20.04 or newer
VST2, VST3, CLAP (64bit only)
Specifications
Magnetic Wire Emulation
Up to 16x Oversample
Echo Section
Original Speaker and Mic Emulation
Start and Stop effects
Hiss and Motor noise with Envelope
Resizable Window
Preset system with randomizer
System Requirements
Windows 7 – 11
2GHz CPU, 4 GB RAM
VST2, VST3, AAX, CLAP (64-bit)
 OS X 10.9 – macOS 14
2GHz CPU, 4 GB RAM
VST2, VST3, AU, AAX, CLAP (64-bit)
Universal 2 Binary
Ubuntu 20.04 LTS
2GHz CPU, 4 GB RAM
VST2, VST3, CLAP (64-bit)
Copy Protection
To activate your plugin you can choose between Online and Offline authorization.
Create an account, log in through the plugin to activate, or download your license file for offline activation.
Activation
1 license up to 3 computers
No iLok
We don't like dongles
No Internet
No connection required to activate
2023/11/08: v1.2.3
Added: AAX Silicon Support
Added: macOS 14 Sonoma support
Improved: Graphic memory usage
Fixed: Compatibility with Windows 7
Fixed: Latency compensation filtering Dry signal when Oversampled
2023/01/10: v1.2.1
Added: Linux VST2, VST3, CLAP plugin formats
Added: macOS 13 Ventura support
Added: Windows 11 support
Improved: Minor graphic changes
Fixed: Compatibility with macOS 10.11 and 10.12
2022/06/23: v1.2
Added: CLAP plugin format (beta)
Added: Oversampler up to 16x
Added: macOS 12 Monterey support
Improved: CPU and memory usage
Improved: Graphics and labels
Fixed: Echo Level pre/post behaviour
Fixed: Popups not opening correctly with multiple instances in Logic Pro
Fixed: Compatibility with OS X 10.10 Yosemite
2020/12/20: v1.1
Added: macOS 11 Big Sur support (Universal Binary)
Added: Output Trim
Added: Mono Switch
Added: Routing Switch (alternative feedback path)
Added: Envelope Attack and Release Controls
Added: Option to have the Echo Level pre or post feedback
Added: Option to enable Accelerated GUI
Added: 8 new presets
Fixed: Echo Time not recalling properly in some Hosts (VST2/VST3)
Fixed: Clear Buffer not working
2020/11/05: v1.0
Release!