Hand Clapper
808, 909, HC2, and more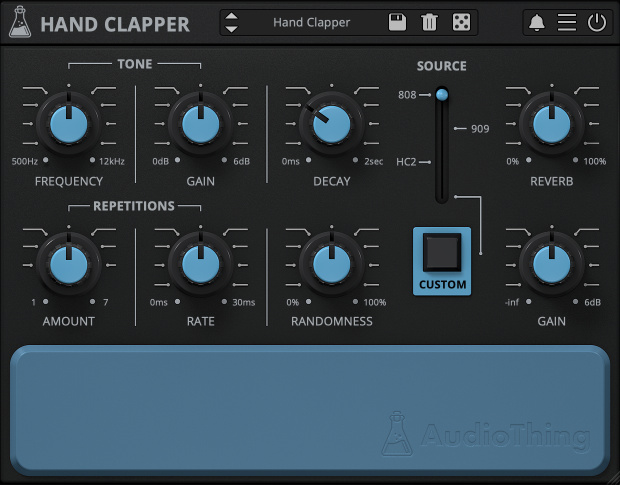 Claps Synthesizer Plugin
Hand Clapper is a drum synthesizer plugin dedicated to claps sounds.
The design is inspired by a famous Japanese percussion synthesiser from the '80. There are three internal noise sources that are used to recreate the classic sound of vintage analog drum machines (such as 808, 909, HC2, and more).
You are not limited to just the on-board sounds though, you can also load in any sample you want.
Inspiration
Inspired by the classic Boss HC-2 pedal, the raison d'être of "Hand Clapper" is the generating of handclaps. Out of the box it comes with 45 Factory Presets using 21 custom analog samples taken from several analog instruments (drum machine, analog synths, and real claps) to emulate the TR-808 and TR-909, and the HC-2 itself.
Custom Samples
You are not limited to just the onboard sounds though, you can also load in any sample of your own choosing (a single WAV up to four seconds long), which can lead to some very interesting results with a little experimentation. Try using synth shots, piano noises or vocals for example!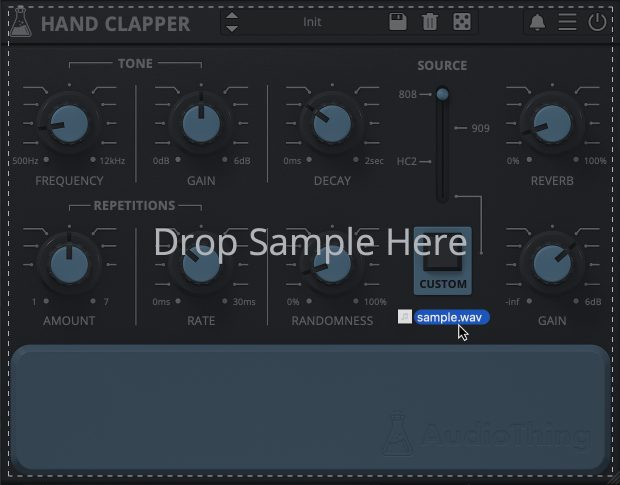 Reviews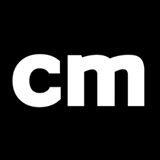 "Hand Clapper couldn't be easier to use, which makes it both productive and fun; but more importantly, it sounds truly wicked, perfectly capturing the spirits of the vintage machines at its heart. and doing crazy things to external samples."
Computer Music Magazine. The world's best selling magazine dedicated to making great music with your Mac or PC.
Hand Clapper Demo
Try Hand Clapper for free with some limitations: silence for 3 seconds every 45 seconds, saving disabled.
If you like it, you can purchase a license and then authorize the demo version.
macOS
Requires macOS 10.9 or higher
AU, VST2, VST3, AAX (64bit only)
Windows
Requires Windows 7 or higher
VST2, VST3, AAX (64bit only)
Specifications
4 sources: 808, 909, HC2, Custom
48 Factory Presets
24 Factory Samples from vintage gear
Tone bandpass/peak filter
Vintage Reverb
Preset system with randomizer
System Requirements
 Windows 7, 8, 10
2GHz CPU, 4 GB RAM
VST2, VST3, or AAX (64-bit)
 OS X 10.9 – macOS 12
2GHz CPU, 4 GB RAM
VST2, VST3, AU, or AAX (64-bit)
Universal 2 Binary
Copy Protection
To activate your plugin you can choose between Online and Offline authorization.
Create an account, log in through the plugin to activate, or download your license file for offline activation.
Activation
1 license up to 3 computers
No iLok
We don't like dongles
No Internet
No connection required to activate
2022/01/13: v1.5.1
Added: 3 new presets and 3 new samples
Added: macOS 12 Monterey support (Universal 2 Binary)
Added: Option to disable Round Robin
Added: Internal support for left-hand mouse users
Added: Light and Dark UI mode
Added: Option to enable Accelerated GUI
Improved: Round Robin Consistency
Improved: Source labels can now be clicked
Removed: Legacy feature "Bounce to file"
Fixed: Samplerate not updating correctly
Fixed: Parameter locks not recalling properly when loading saved projects
2020/12/16: v1.5
Added: macOS 10.15 Catalina support
Added: VST3 plugin format
Added: 11 new presets and 6 new samples
Added: Parameter Lock
Added: Edit Value option for Knobs
Added: Notification System
Added: Online Authorization Form
Added: Global option – Resizable Window
Improved: New GUI with support for Retina/HiDPI displays
Improved: CPU and memory usage
Fixed: Bounce to file length bug
2017/01/24: v1.2.1
Fixed Custom Sample Name not showing on some DAW
Added One Shot mode and fixed attack/release clicks
Improved CPU performance
2016/09/15: v1.2.0
4 new presets/samples from two 80s digital drum machines
The GUI now shows the file name of the custom sample when moving the mouse over the Load Button
Browse through the samples in the Custom Sample Folder using Left and Right arrow keys (only when Custom is selected)
Improved limiter (soft clip instead of hard clip)
2016/03/05: v1.1.2
Custom Samples and Reverb section now fully stereo
Added options to set/open the Custom Sample Folder
Fixed a very rare bug that might cause random clicks/pops
Fixed missing sample error that might crash some hosts
2016/01/15: v1.1.0
11 new presets with 11 custom samples from analog gear
Added 3 velocity curves (soft, linear, hard)
Custom samples can now be dragged and dropped onto the GUI
Custom samples can now be saved to the preset folder
Unloading custom samples is now possible
Fixed Release on very fast notes