miniBit
8bit Synthesizer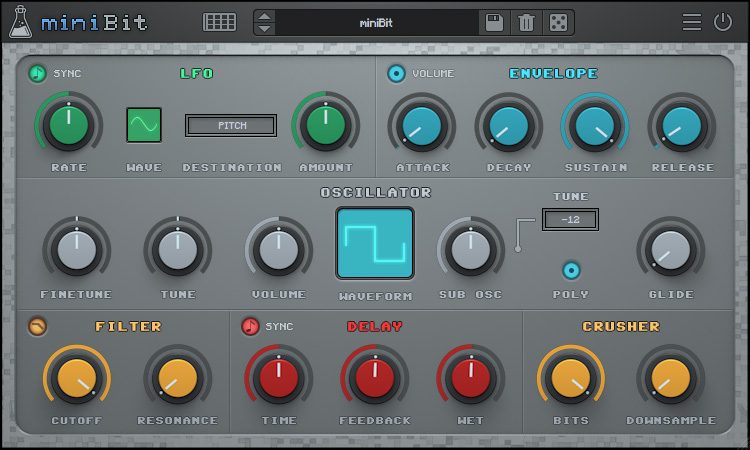 Chiptune Synth
miniBit is an 8-bit/chiptune style synthesizer plugin that emulates the sound of 80s game consoles and retro computers.
It features a main oscillator with 18 waveforms paired with a sub oscillator (a square wave pitched one octave below).
The waveforms are not bandlimited and will produce aliasing. Furthermore, using the built-in bitcrusher, you can create even more noisy and retro sounds.
miniBit also features a synced 8 Steps Stepper/Sequencer with multiple destinations.
From noisy, snare-like steps to ambient subs, miniBit has many uses beyond what one expects from a chiptune synth.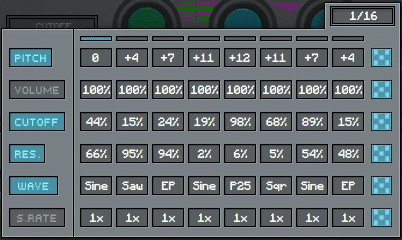 Step Sequencer
miniBit features an 8 steps sequencer that can be used to automate several parameters: pitch, volume, cutoff, resonance, waveform, and downsampling.
Sequencing the waveforms will generate sounds reminiscent of early trackers and wavetable synthesizers.
Each track can also be randomized using the dice buttons on the right.
Custom Waveforms
The Custom Waveform Editor features 32 steps and 8 waveform slots per preset.
You can draw your waveforms by clicking and dragging on the editor. You can also use the built-in examples as a starting point.
Each preset has its own set of custom waveforms, if you want to use a custom wave with another preset you can use the Copy/Paste buttons, or you can disable the Update Custom Waves in the global settings.
To open the Custom Waveform Editor select one of the Custom Waveforms from the Waveform monitor and click on the Editor button.
Classic Consoles
miniBit was inspired by the sound of classic game consoles and retro computers of the 80s and 90s.
For even more 8-bit/chiptune effects, check out our effect plugin miniVerb.
miniBit Demo
Try miniBit for free with some limitations: silence for 3 seconds every 45 seconds, saving disabled.
If you like it, you can purchase a license and then authorize the demo version.
macOS
Requires macOS 10.9 or higher
AU, VST2, VST3, AAX (64bit only)
Windows
Requires Windows 7 or higher
VST2, VST3, AAX (64bit only)
Specifications
18 Waveforms + Custom Waves + Sub Oscillator
Poly and Mono mode with Glide
2-poles LowPass/HighPass Filter
Pitch and Volume Envelopes
Delay and BitCrusher effects
LFO with multiple destinations
Volume and Pitch Envelopes
8 Steps Stepper with multiple destinations
128 Presets + Preset randomizer
System Requirements
Windows 7, 8, 10
2GHz CPU, 4 GB RAM
VST2, VST3, or AAX (64-bit)
OS X 10.9 – macOS 12
2GHz CPU, 4 GB RAM
VST2, VST3, AU, or AAX (64-bit)
Universal 2 Binary
Copy Protection
To activate your plugin you can choose between Online and Offline authorization.
Create an account, log in through the plugin to activate, or download your license file for offline activation.
Activation
1 license up to 3 computers
No iLok
We don't like dongles
No Internet
No connection required to activate
2022/02/09: v1.6.4
Added: macOS 12 Monterey support (Universal 2 Binary)
Fixed: Values disappearing randomly in the Step Sequencer
2020/07/30: v1.6.3
Fixed: Crash when a project time signature is set to 1/8
Fixed: Issue with the Registration Window resetting itself
2020/07/13: v1.6.2
Added: New bank "The Chiptune Orchestra" by Fabri with 20 New Presets
Added: Internal support for left-hand mouse users
Added: Option to extend the LFO range
Fixed: Minor graphics glitches
Fixed: Parameter locks not recalling properly when loading saved projects
2019/12/31: v1.6.1
Added: macOS 10.15 Catalina support
Added: Parameter Lock
Added: Edit Value option for Knobs
Added: Notification System
Fixed: LFO Ramp Up/Down Swapped
Fixed: Step Sequencer Rate not updating correctly on some Hosts
Fixed: VST3 UI issue on Windows with scaling over 100%
Improved: Waveform Monitor mouse sensitivity
Improved: CPU and memory usage
2018/12/14: v1.6
Added: Custom Wave Editor with 32 steps and 8 waves
Added: Glide row to Step Sequencer
Fixed: Sub-Osc Glide Issue
Fixed: Step Sequencer not retaining values on some Hosts
Fixed: Random clicks when scrolling through Waveforms
Improved: Waveform Monitor
2018/09/13: v1.5.1
Added: Global Volume Boost
Added: Pitch Bend Range (Up/Down)
Added: Sequencer Steps Amount
Added: Online Authorisation Form
Fixed: Random stuck notes in Pro Tools
Fixed: Sequencer Waveform track bug
Fixed: Digital Performer Plugin Validation Error
Improved: Partial support for Retina/HiDPI displays
2018/04/06: v1.5.0
Added: Pitch Envelope
Added: 3 New Waveforms
Added: LFO wave "Ramp Up"
Added: Sub Osc Tune
Added: 75+ New Presets
Added: VST3 plugin format
Added: Global option – Resizable Window
Fixed: Bypass noise in Pro Tools
Improved: Redesigned GUI
Improved: Stability and CPU usage
Improved: LFO sync
Improved: Delay parameter smoothness
Improved: Preset Browser with sub-categories
Improved: MIDI Learn
2016/05/25: v1.2.0
Fixed a bug causing some saved projects to crash on loading
Improved CPU optimization
2015/04/09: v1.1.5

Added HighPass filter
Fixed stepper sync problems when changing project sample rate
2015/01/26: v1.1.0

Added Stepper with multiple destinations
Added 3 new Waveforms
Added 20 new Presets
Fixed silence in Mono instance