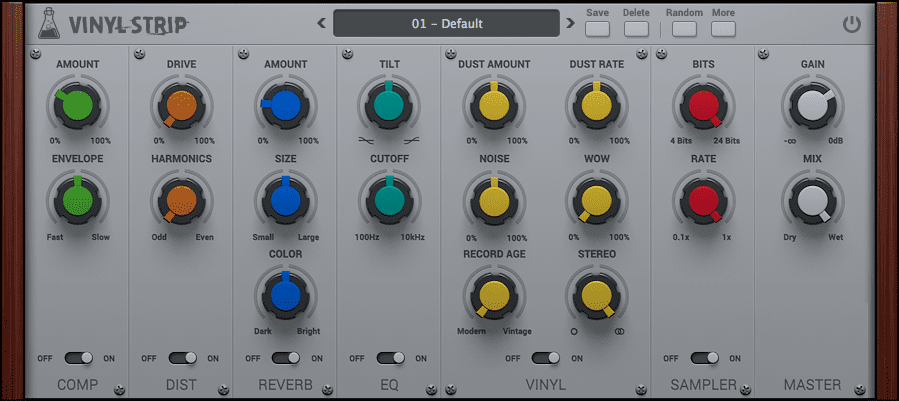 MODULAR CHANNEL STRIP
Vinyl Strip is a multi-effect plugin featuring 6 modules: Distortion, Compressor, Bit Crusher, Tilt EQ, Vintage Reverb, and Vinylizer. The modules can be arranged in any combination by simple drag-n-drop. Vinyl Strip will add life and an old school touch to your samples and tracks, and achieve that classic vinyl record sound in your digital environment. The plugin is optimised to be lightweight on the CPU.


6 MODULES
Much more than just a vinyl emulator, Vinyl Strip features 6 modules dedicated to recreating that classic vintage/old school sound of vinyl recording and sampling.
Distortion, chooses which kind of harmonics you want to generate
Compressor, easy to get a softer or harder sound
Sampler, recreates the sound quality of early samplers
Tilt EQ, balances the sound like an old hi-fi system
Reverb, adds a warm vintage space to your sounds
Vinyl, emulates the dust, noise, warp, and response of vinyl
DRAG AND DROP
You can customize your channel strip with a simple drag-and-drop.
By default, all modules (except the Master module) can be moved and re-arranged to create different signal flows.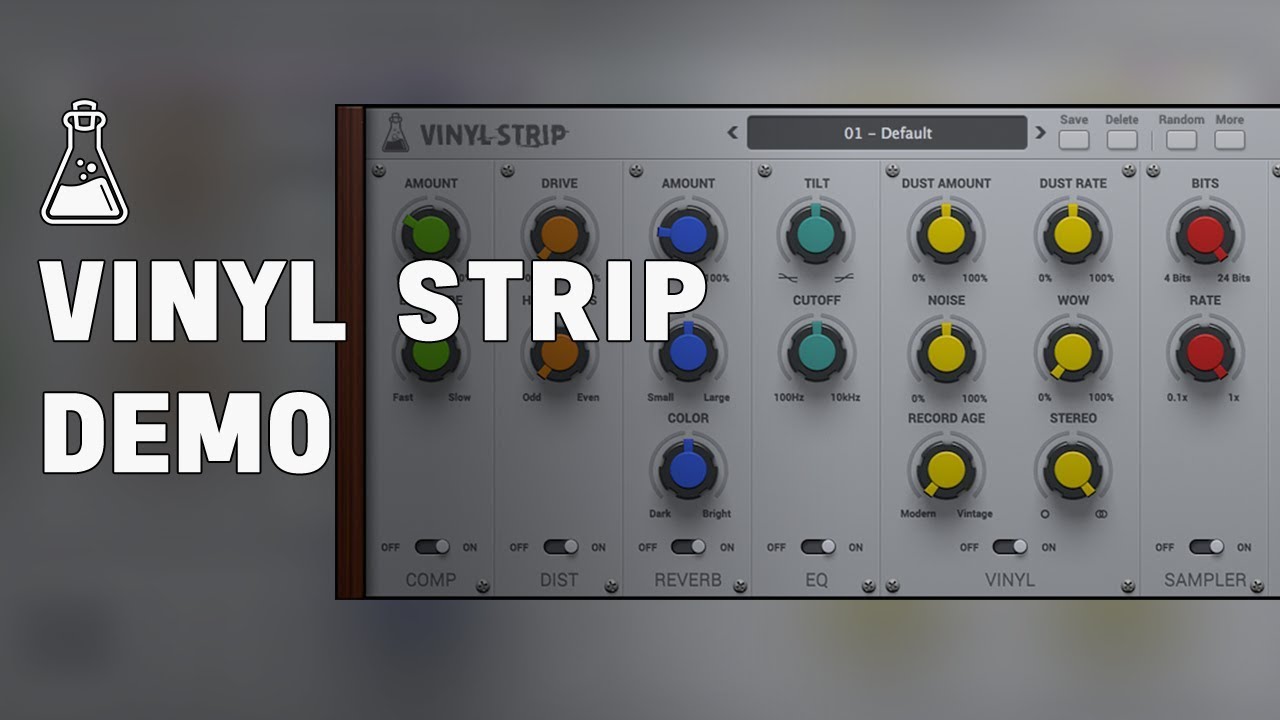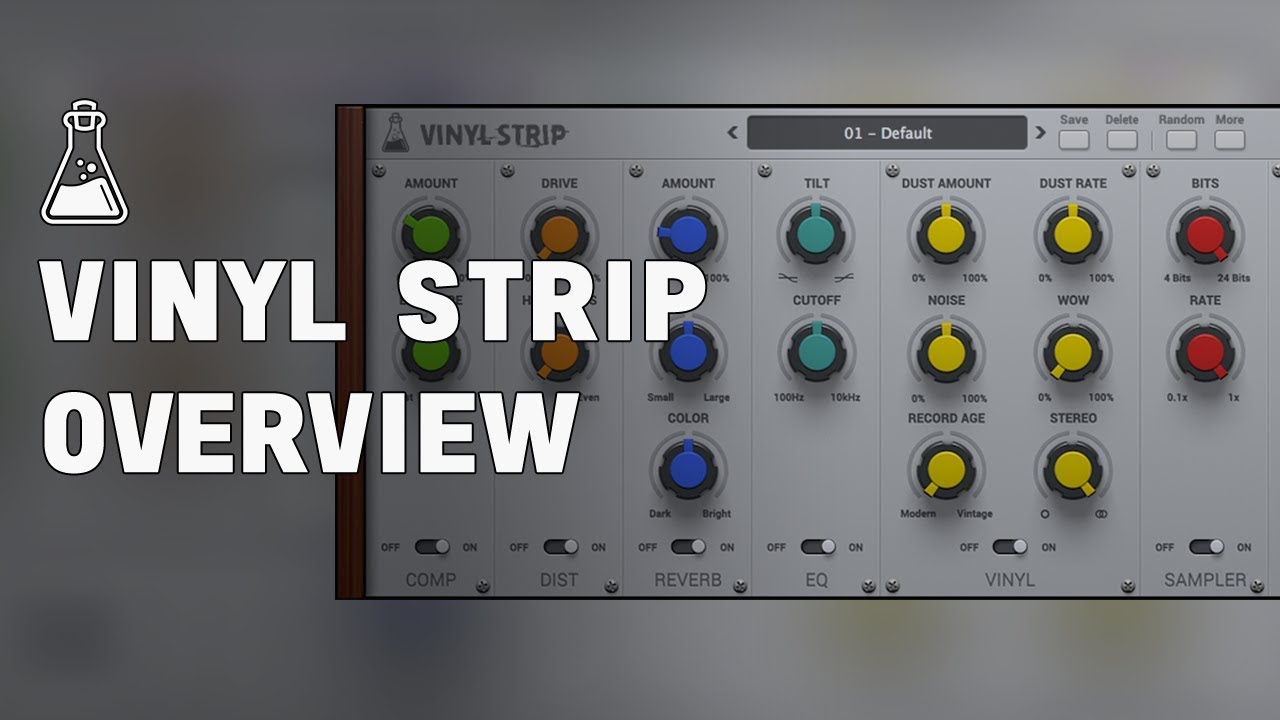 "An approachable but powerful way to add all kinds of vinyl, ageing and retro effects to your tracks with a minimum of fuss – 9/10"
Music Tech. The world's best magazine & website for producers, engineers and recording musicians
"Vinyl Strip is one of the most interesting, versatile 'vintagiser' plugins we've used. Ideal for treating individual channels and processing whole loops/groups. It does exactly what it sets out to – 9/10"
Computer Music Magazine. The world's best selling magazine dedicated to making great music with your Mac or PC.
"Great sound, feature-rich, easy to operate and low demand on computer resources…results are always musical and appealing – 5.5/6"
Beat Magazine. German specialist magazine for music, production, and DJing.
SPECIFICATIONS
6 modules: Distortion, Compressor, Bit Crusher, Tilt EQ, Reverb, and Vinylizer
All modules can be arranged by drag-n-drop
Lightweight on CPU
Preset system with randomizer
SYSTEM REQUIREMENTS
Windows XP SP2, 7, 8, 10 (32/64 bit)
Intel Core 2 Duo or AMD Athlon 64 X2, 4 GB RAM
VST2 or AAX, 32-bit or 64-bit host
OS X 10.7 – macOS 10.13
Intel Core 2 Duo, 2 GB RAM
VST2, AU, or AAX, 32-bit or 64-bit host
2016/05/05: v1.1.5
– Fixed a bug causing wrong gain values when using host internal bypass (VST only)
– Improved CPU stability and reduced plugin size
– Fixed preset recall position in saved projects
2016/01/15: v1.1.2
– Fixed Compressor module not working on mono tracks
2015/10/07: v1.1.1
– Fixed samplerate problem with Sampler module
2015/10/06: v1.1.0
– Added Dust/Noise Envelope (acts like a gate)
– Added Dust/Noise Louder (increases the overall volume for both)
– Added WOW Enhanced (increases the pitch modulation range)
– Fixed automation values recall when switching presets
2015/09/24: v1.0.1
– Fixed WOW knob bug/noise
– Fixed preset name recalling on saved projects