Vinyl Strip
Modular Channel Strip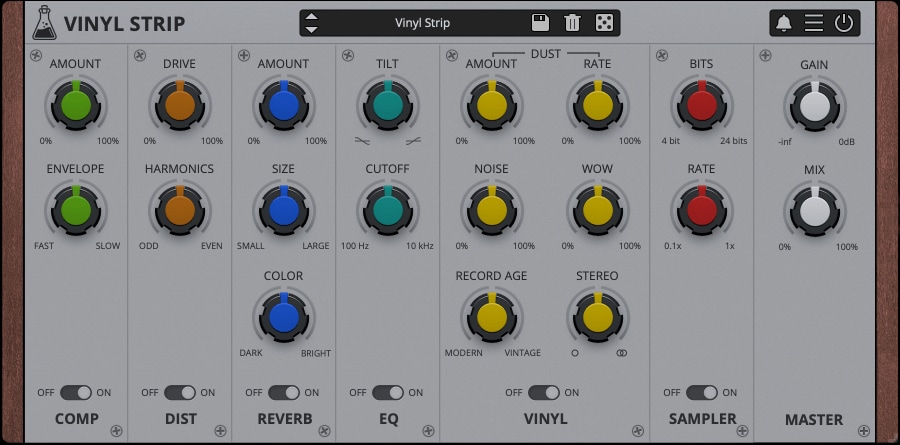 Retro Effects
Vinyl Strip is a multi-effect plugin featuring 6 modules: Distortion, Compressor, Bit Crusher, Tilt EQ, Vintage Reverb, and Vinylizer. The modules can be arranged in any combination by simple drag-n-drop. Vinyl Strip will add life and an old school touch to your samples and tracks, and achieve that classic vinyl record sound in your digital environment. The plugin is optimised to be lightweight on the CPU.
6 Modules
Much more than just a vinyl emulator, Vinyl Strip features 6 modules dedicated to recreating that classic vintage/old school sound of vinyl recording and sampling.
Distortion, chooses which kind of harmonics you want to generate
Compressor, easy to get a softer or harder sound
Sampler, recreates the sound quality of early samplers
Tilt EQ, balances the sound like an old hi-fi system
Reverb, adds a warm vintage space to your sounds
Vinyl, emulates the dust, noise, warp, and response of vinyl
Drag and Drop
You can customize your channel strip with a simple drag-and-drop.
By default, all modules (except the Master module) can be moved and re-arranged to create different signal flows.
For example, you can decide to add the compressor module after the Vinyl emulation, or vice versa.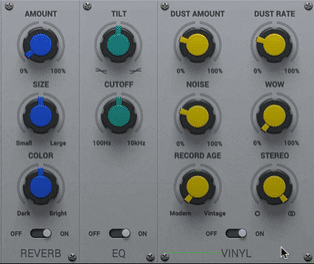 Reviews
"An approachable but powerful way to add all kinds of vinyl, ageing and retro effects to your tracks with a minimum of fuss – 9/10"
Music Tech. The world's best magazine & website for producers, engineers and recording musicians
"Vinyl Strip is one of the most interesting, versatile 'vintagiser' plugins we've used. Ideal for treating individual channels and processing whole loops/groups. It does exactly what it sets out to – 9/10"
Computer Music Magazine. The world's best selling magazine dedicated to making great music with your Mac or PC.
Vinyl Strip Demo
Try Vinyl Strip for free with some limitations: silence for 3 seconds every 45 seconds, saving disabled.
If you like it, you can purchase a license and then authorize the demo version.
macOS
Requires macOS 10.9 or higher
AU, VST2, VST3, AAX, CLAP (64bit only)
Windows
Requires Windows 7 or higher
VST2, VST3, AAX, CLAP (64bit only)
Linux
Requires Ubuntu 20.04 or newer
VST2, VST3, CLAP (64bit only)
Specifications
6 modules: Distortion, Compressor, Bit Crusher, Tilt EQ, Reverb, and Vinylizer
All modules can be arranged by drag-n-drop
Lightweight on CPU
25 Presets
Preset system with randomizer
System Requirements
Windows 7 – 11
2GHz CPU, 4 GB RAM
VST2, VST3, AAX, CLAP (64-bit)
OS X 10.9 – macOS 13
2GHz CPU, 4 GB RAM
VST2, VST3, AU, AAX, CLAP (64-bit)
Universal 2 Binary
Ubuntu 20.04 LTS
2GHz CPU, 4 GB RAM
VST2, VST3, CLAP (64-bit)
Copy Protection
To activate your plugin you can choose between Online and Offline authorization.
Create an account, log in through the plugin to activate, or download your license file for offline activation.
Activation
1 license up to 3 computers
No iLok
We don't like dongles
No Internet
No connection required to activate
2023/04/24: v1.6.1
Added: macOS 13 Ventura support
Added: Windows 11 support
Added: AAX Silicon Support
Added: Linux VST2, VST3, CLAP plugin formats
Improved: CPU and memory usage
Fixed: Compatibility with macOS 10.11 and 10.12
2022/09/13: v1.6
Added: macOS 12 Monterey support (Universal 2 Binary)
Added: CLAP plugin format
Added: Light and Dark UI mode
Added: Option to enable Accelerated GUI
Added: Internal support for left-hand mouse users
Improved: GUI and loading time
Improved: Joined Parameter lock and Random lock
2019/12/17: v1.5
Added: macOS 10.15 Catalina support
Added: VST3 plugin format
Added: 10 new presets
Added: Parameter Lock
Added: Edit Value option for Knobs
Added: Notification System
Added: Online Authorization Form
Added: Global option – Resizable Window
Improved: New GUI with support for Retina/HiDPI displays
Improved: Modules bypass
Improved: Vinyl Emulation
Fixed: Noise/Dust inconsistencies when changing sample rate
2016/05/05: v1.1.5
Fixed a bug causing wrong gain values when using host internal bypass (VST only)
Improved CPU stability and reduced plugin size
Fixed preset recall position in saved projects
2016/01/15: v1.1.2
Fixed Compressor module not working on mono tracks
2015/10/07: v1.1.1
Fixed samplerate problem with Sampler module
2015/10/06: v1.1.0
Added Dust/Noise Envelope (acts like a gate)
Added Dust/Noise Louder (increases the overall volume for both)
Added WOW Enhanced (increases the pitch modulation range)
Fixed automation values recall when switching presets
2015/09/24: v1.0.1
Fixed WOW knob bug/noise
Fixed preset name recalling on saved projects