Alborosie Dub Station
Inspired by King Tubby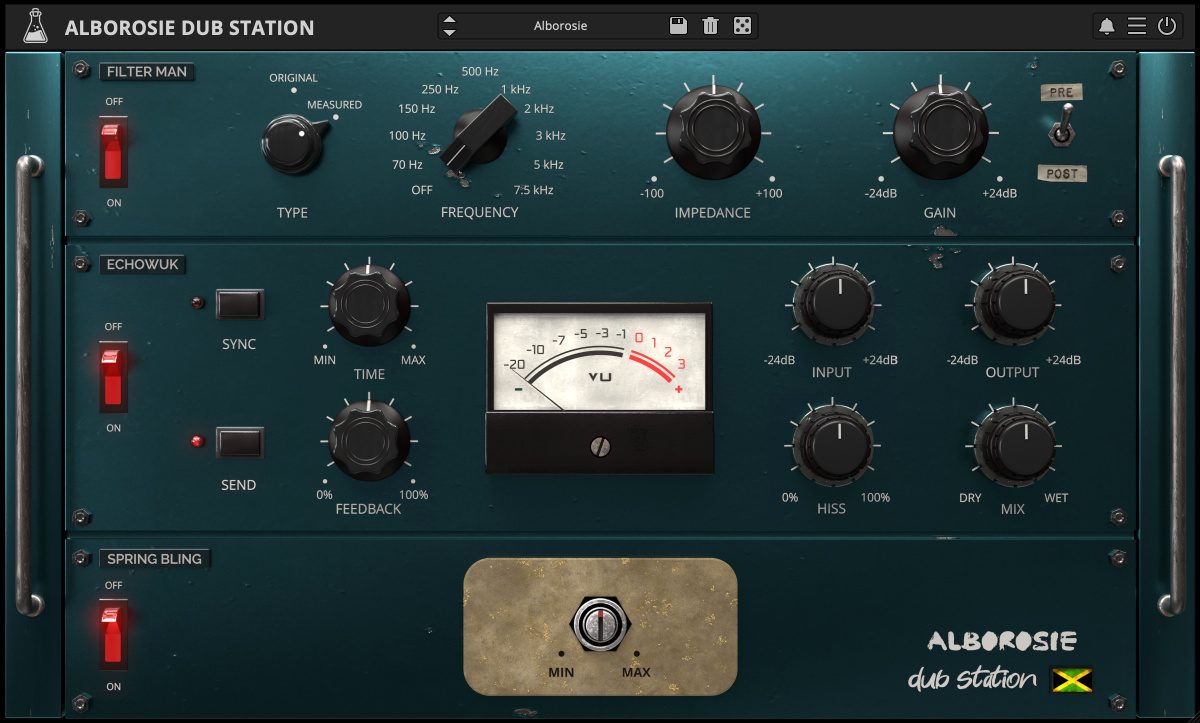 Filter, Echo, Spring by Alborosie
Straight from the heart of Jamaica's most prolific music community, Waterhouse in Kingston, we proudly introduce you the Alborosie Dub Station.
We sampled, analyzed, and carefully recreated the original filter, echos, and spring reverb pre-owned, modified, and used by the legendary Osbourne Ruddock "King Tubby" – producer, studio engineer, and pioneer of dub reggae from the golden era of the 70s – from Alborosie's personal vintage gear collection.
ECHOWUK: directly from federal studios, then King Tubby studio in Waterhouse Kingston, the MCI 2 track tape that was used to record and also to create the echo effect for most of the reggae classics overall and popular Tubby's instrumental dub mixes.
SPRING BLING: directly from King Tubby studio in Waterhouse Kingston, the modified Fairchild Spring Reverb used by the Maestro himself in most classic records and dub mixes he recorded and produced.
FILTER MAN: modeled after Tubby's so-called "Big Knob", a passive high-pass filter with eleven frequency steps from 70Hz to 7.5KHz. This filter defined the sound of the entire 'roots' area of Jamaican music!
Special thanks to Lloyd James "King Jammy" for the continuous inspiration and guidance.
Alborosie
Real name Alberto D'Ascola, he was born in the Sicilian town of Marsala, Italy. He formed the Reggae National Tickets, who regularly toured Europe during the mid-to-late nineties. As the Millennium approached, the Tickets performed in Jamaica and the island immediately enveloped Alborosie in its spell, prompting him to jump ship and take a job as an engineer at Gee Jam studios in Port Antonio – a tropical hideaway on Jamaica's north coast where Amy Winehouse, No Doubt, and many other foreign and local stars liked to record.
"I just wanted to be close to the music that I loved, and that I couldn't find in Italy. That is the main story behind my journey so all I want to do now is contribute to the genre and bring it to the next level – to carry the flag, or even just help someone else carry the flag"
In 2011, he became the first white artist to win the M.O.B.O. (Music of Black Origin) Awards in the Best Reggae Act category.
Alborosie Dub Station Demo
Try Alborosie Dub Station for free with some limitations: silence for 3 seconds every 45 seconds, saving disabled.
If you like it, you can purchase a license and then authorize the demo version.
macOS
Requires macOS 10.9 or higher
AU, VST2, VST3, AAX (64bit only)
Windows
Requires Windows 7 or higher
VST2, VST3, AAX (64bit only)
Specifications
Filter, Echo, Spring
Zero Latency / Ultra Low CPU
Resizable Window
Preset system with randomizer
System Requirements
 Windows 7, 8, 10
2GHz CPU, 4 GB RAM
VST2, VST3, or AAX (64-bit)
 OS X 10.9 – macOS 11
2GHz CPU, 4 GB RAM
VST2, VST3, AU, or AAX (64-bit)
Universal 2 Binary
Copy Protection
To activate your plugin you can choose between Online and Offline authorization.
Create an account, log in through the plugin to activate, or download your license file for offline activation.
Activation
1 license up to 3 computers
No iLok
We don't like dongles
No Internet
No connection required to activate